Finalists for BILD Alberta Awards in the renovation categories showcase beautiful, refreshed spaces.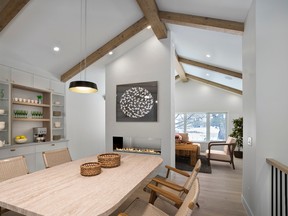 Reviews and recommendations are unbiased and products are independently selected. Postmedia may earn an affiliate commission from purchases made through links on this page.
Article content
Across the country, home renovations are on the rise.
Article content
According to a recent survey by HomeStars, one of Canada's largest online marketplaces connecting Canadian homeowners with home service professionals, Canadians are spending more on home renovations than they have in years past — almost 40 per cent more and that number is predicted to rise in 2023.
Article content
The survey, conducted by Angus Reid, found that on average, those who completed indoor renovations from the period spanning March 2021 to March 2022, spent $13,000 — up from $8,300 in the preceding 12-month period. Not only that, in the coming year (March 2022 to March 2023), homeowners who plan to upgrade their spaces said they'll be spending an average of $25,222 — nearly double what they spent the 12 months prior.
Article content
"People are staying put — they have a real sense of place. Often there is a lot of connection to the neighbourhood, but it's also the fact that it's their home," says Scott Wilson, sales and design manager at Effect Home Builders in Edmonton. He says the current trends in renovations, spurred on by the pandemic, are to create better use of space and to accommodate changes in purpose of the house — growing children, children leaving home creating empty nesters, aging in place, work-from-home requirements — these are all motivators.
"We're seeing a lot of large-scale renovations, a lot of full guts, moving around of structural elements, a complete change of the space to create greater flow and more light. And people are very interested in that inside-to-outside transition," says Wilson.
Article content
The trend is illustrated in The Haven, a full-scale bungalow renovation in Edmonton's established west end community of Parkview.
"We basically gutted everything," says Wilson. The home was reconfigured — the family's child was now at an age to have a bedroom on another level. A large master suite was carved on the main floor, moving the secondary bedroom to the lower level.
"The entire floor plan was opened up," says Wilson, adding that the use of warm wood, white and accent beam work really created a welcoming feeling in the home.
And creating that warm and cozy feeling, a space where a family can grow and gather is also top of mind for homeowners. In the initial HomeStars' survey, conducted in March 2022, 56 per cent of those surveyed indicated that they plan to stay in their homes and renovate, but when HomeStars checked the pulse again in June, it found that number had escalated to a whopping 84 per cent.
Article content
"f you are going to be in a home for the long-term, it's really important that it suits your needs. It's where you gather together with your family and your friends. It's where you create memories," says Dale Koeller, vice-president of Calvert Home Mortgage Investment Corp., a mortgage company based in Calgary. "I'm in the mortgage business, so I think of a home as an investment, but it is so much more than that."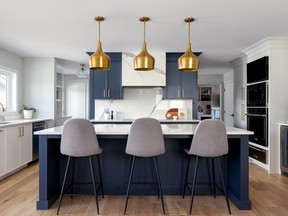 Koeller is one of a growing number of homeowners taking the home renovation plunge. For his family, it began with a love a baking and a need for more space.
"When we bought our home six years ago, we knew that we would need to renovate at some point and that we would need an extension to our living space, but we loved the home and it's such a great location. We really saw the value in it," says Koeller.
Article content
He and his wife, Raina Wall, and their two girls, 13 and 15, also spend a lot of time in the kitchen.
"The girls love to bake and create in the kitchen. They are inspired by baking shows and recipes that they find on the internet," he says, noting that the kitchen was the area of the home that required the greatest overhaul.
The family lived in the home for five years without making any changes and then, when the pandemic hit, they knew it was time to revamp the 1,800 square-foot, two-story home in Lake Bonavista. They brought on Van Manna Homes, a Calgary-based custom estate home builder and renovator, and the design team at Camantra to help them with the project, while the family moved out for six months in the later part of 2021 and through the first few months of 2022.
Article content
The rear of the home was bumped out by seven feet, allowing for the construction of a mudroom (for dropping the backpacks, sporting gear and coats) and a powder room that is brilliantly tucked into the millwork. The kitchen was pushed out and reconfigured with a large island, where now the entire family can gather around and cook and bake and hang out.
"It's really brought our whole family into the cooking. Now we've got such a huge space to gather around and it's become command central, especially for the mornings," says Koeller.
The renovation added another 500 square feet to the floor plan, along with plenty of windows and a fresh coastal vibe that embraces a palette of crisp royal blue, gold and white — the entire effect adds a light and airy feel. Raina scoured design magazines and websites to glean inspiration.
Article content
"She just has really good taste and design sense," says Koeller.
Jason Manna, president and owner of Van Manna Homes explains that kitchens often do drive a home renovation.
"It's the primary space that people want to renovate, since it's the hub of the home. But often, clients are surprised at how quickly the scope of work will spiral, because a kitchen renovation typically impacts other areas of the home, including the flooring and ceilings," he says.
He notes that renovations are steering the market right now, rather than custom new build products and agrees that people are wanting to stay put. "People are wanting to invest in highly desirable neighbourhoods with established trees and schools."
For the Koeller-Wall family, it was all about assessing long-term needs.
"We wanted this to be our forever home. But you do have to work within your budget, and there are places within your home that are well worth renovations and the kitchen is one of them," says Koeller.
Both The Haven and the Koeller-Wall home, titled the Lake Home, are finalists in the 2022 BILD (Building Industry Land Development Association) Alberta Awards. The awards recognize excellence in the Alberta homebuilding and renovating industry. The winners will be announced at the BILDing the Future Conference, taking place Sept. 16 in Jasper.