Planning and designing a kitchen remodel is one of the most exciting home upgrades an interior designer or homeowner can do. But with so many decisions to make while balancing function, style, and budget, this process can feel overwhelming. 
However, this doesn't have to be the case; remodeling your kitchen can be made simpler with proper planning.
Our interior experts have laid out the top six things to think about when planning your kitchen remodel, whether you are upgrading a small kitchen or working with a more spacious layout.
First things to consider when remodeling a kitchen
'Before starting any renovation project, it's important to establish a clear design vision,' insists Vitaliy Vinogradov, interior designer and project manager at Modern Place. 
'Consider your overall style preference, desired color scheme, and the atmosphere you want to create. Define your goals for the space, too. This will guide your decision-making process and ensure a cohesive look.'
1. Functionality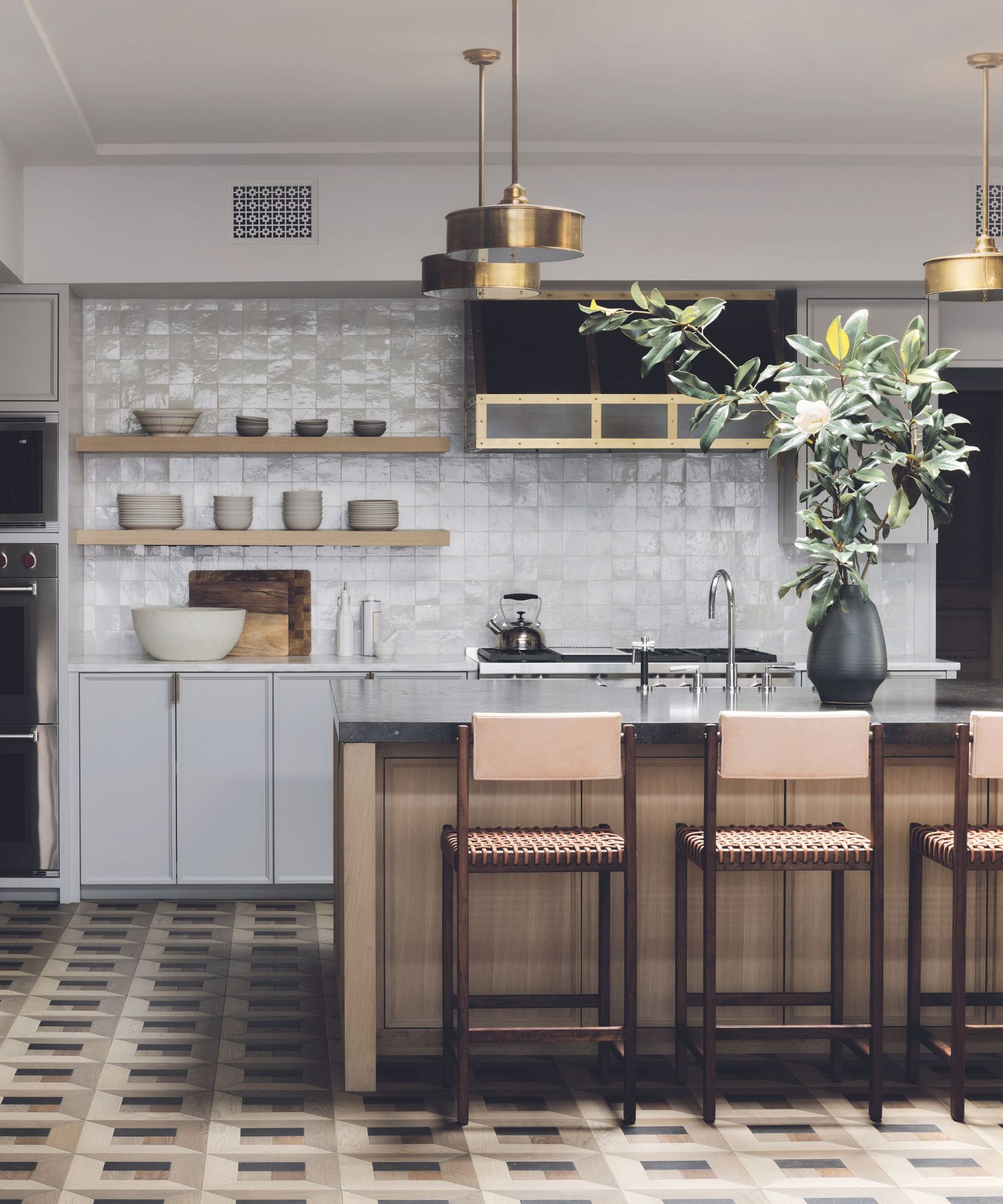 With a design vision in mind, the next thing to think about is how you use your kitchen, according to Cyble Rizwan at Persimmon Design. 'Do you love to cook elaborate meals, or is it primarily a space for quick, casual dining? Understanding your lifestyle and cooking habits is crucial. Think about the kitchen's workflow, ensuring that the stove, sink, and refrigerator form a convenient triangle for efficient meal prep.'
Evaluating how you use your kitchen should not only determine layout but also the type of appliances and features, such as lighting, storage, workspace and seating you will want to install. This will help you to consider which dream kitchen upgrades are necessary for you and your family's routines. 
Mariya Snisar, the head of interior design at Renowell advises, 'Choose appliances that suit your cooking habits and lifestyle. Energy-efficient options are not only environmentally friendly but can also lead to long-term cost savings.'
Mariya Snisar is the the head of interior design at Renowell (https://renowell.ca/), with over 12 years of experience in the industry. Her family has been in construction for generations, and she has participated in tens of interior design projects in Canada. She is passionate about creating beautiful spaces and giving each project a personal touch.
Think about the size, capacity, energy efficiency, features, and placement of your kitchen appliances, says Jacky Chou, principal and director of Archute. For example, where your oven is placed in the kitchen will influence where your food prep area should go.
'You should think about whether you want to upgrade or replace any existing appliances, such as the refrigerator, oven, stove, dishwasher, microwave, or range hood. You should also factor in the installation and maintenance costs of your appliances.'
These considerations are key for maximizing the functionality of your kitchen and how you use it.
Principal and Director at Archute
Principal and Director at Archute
Jacky Chou is the Principal and Director at Archute, an editorial magazine about architecture, home and garden. They have been referenced by The New York Times, Bustle, House & Home, Bloomberg, and Angi. Jacky also his own an online interior design company as well called Laurel & Wolf.
2. Layout and flow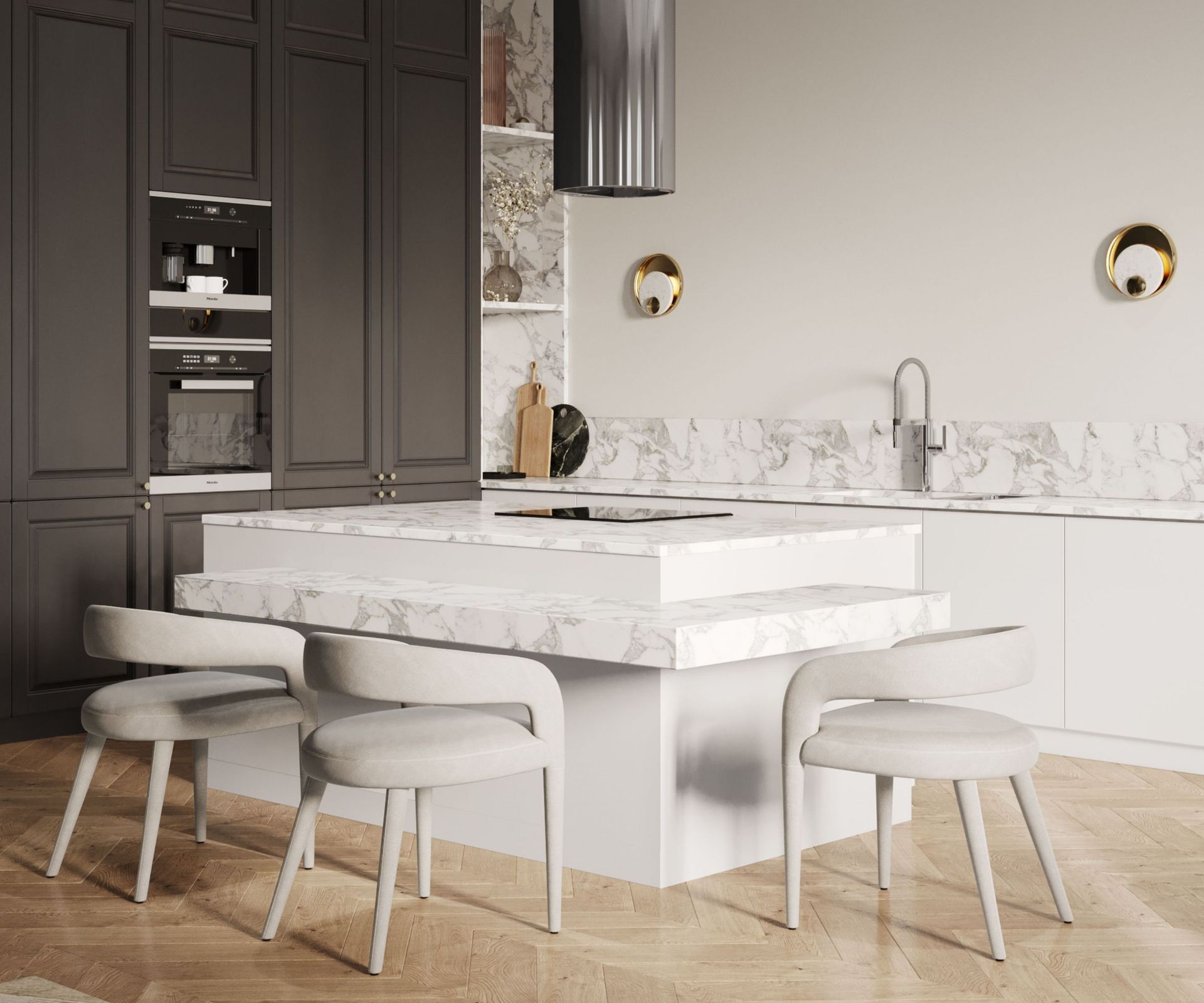 'The layout of a kitchen is crucial as it determines how easy or difficult it will be to navigate and work in the space,' explains David Mason, interior designer and the founder of Knobs. 
'When planning a remodel, I carefully consider the existing layout and try to optimize it to create a functional and efficient kitchen. This involves analyzing the work triangle, as well as the placement of other key elements such as cabinets, countertops, and appliances. 
'I also take into account the natural traffic flow in the kitchen and make sure that there is enough space for movement.'
Vitaliy Vinogradov, advises, 'Evaluate how you currently use the space and identify any pain points or areas of inefficiency. A well-designed kitchen should have a logical flow that minimizes the distances between key work zones.'
To do this, Rachel Waldron, owner of Waldron Designs suggests you picture yourself in the kitchen, and think about how you use it throughout the day, making a sort of flow chart to consider how the space is used at different times. 
'Design your kitchen with this flow in mind,' she advises. 'Keep pots and pans within arm's reach, organize your utensils for easy grabbing, and make sure your spice rack is a quick twirl away. Seamless movement equals cooking bliss.'
Rachel Waldron owns an interior and architecture firm on Vashon Island, specializing in sustainable design that is rooted in its context.
'You can choose from different layout options, such as L-shaped, U-shaped, galley, island, or peninsula,' says Jacky Chou. 'You should also think about whether you want to relocate or remove any walls, doors, or windows to create more space or light.'
Finally, Cyble Rizwan suggests, 'Pay attention to the kitchen's layout and how it connects to adjacent spaces. For example, an open-plan kitchen design can promote a seamless flow between the kitchen and dining or living areas, fostering a sense of togetherness.' Whereas, for families with different schedules, separating the spaces may be more practical. 
3. Style and aesthetics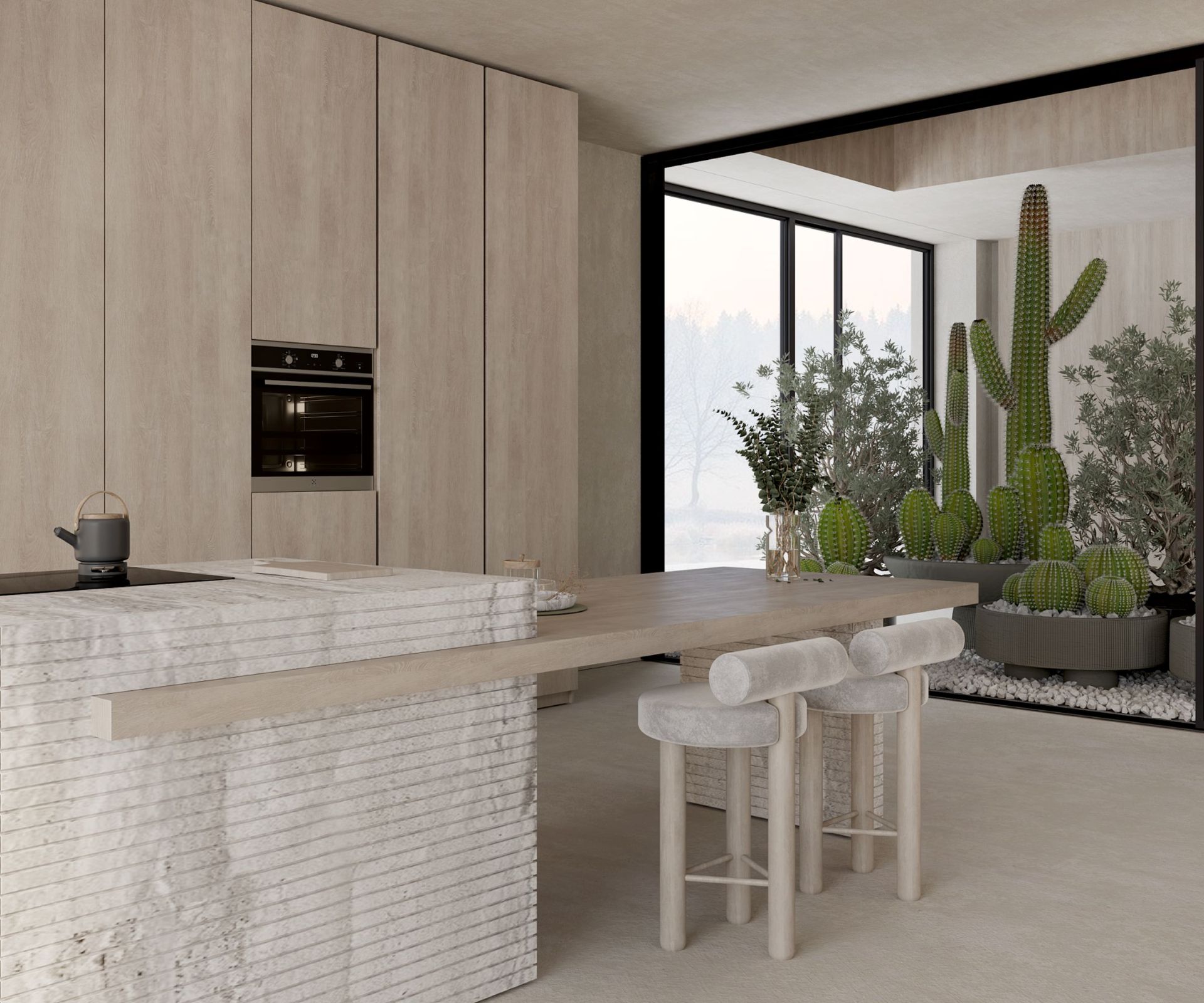 Next, consider the aesthetics and style of your kitchen. It should reflect your personal style while maintaining a cohesive look with the rest of your home. Consider kitchen color schemes, materials, and design elements.
'The style of your kitchen reflects your personality and taste,' says Jacky Chou. 'You need to decide on the overall look and feel you want to achieve, such as modern, traditional, rustic, farmhouse, or eclectic. You should also consider the color scheme, lighting, flooring, backsplash, cabinets, countertops, hardware, fixtures, and accessories that will complement your chosen style. You can browse for inspiration and ideas.' Check out our kitchen ideas to guide your choices. The restrictions of your space will actually help you to narrow things down.
Cyble Rizwan advises, 'Don't be afraid to mix materials – combining, say, sleek modern countertops with rustic wooden cabinets can create a striking contrast.'
Vitaliy Vinogradov recommends selecting durable and easy-to-maintain materials. 'As the kitchen is a high-traffic area prone to spills and stains, it's crucial to choose
materials that can withstand regular use and are easy to clean. 
'Opt for durable countertops, such as quartz or granite, that can withstand heat and
scratches. Similarly, consider selecting stain-resistant and easy-to-clean flooring materials, like ceramic tiles or luxury vinyl planks.'
4. Storage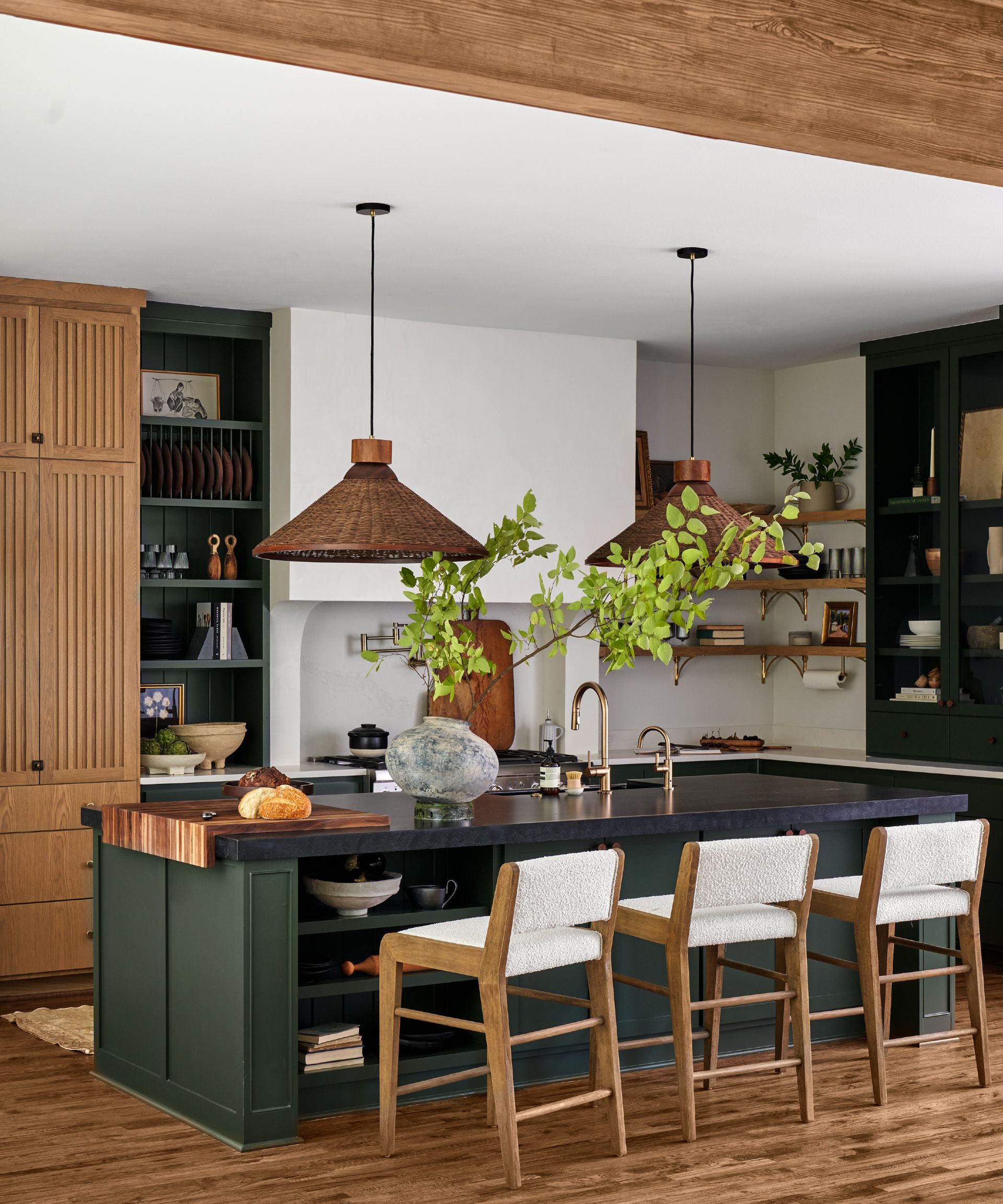 Adequate storage is essential in a functional kitchen.
'Design your cabinets, drawers, shelves and kitchen island to accommodate your specific kitchen storage needs, whether that's for pots and pans, spices, or a growing collection of kitchen gadgets,' says Cyble Rizwan. 
'Think creatively about hidden storage solutions to keep your kitchen clutter-free.' 
For example, Vitaliy Vinogradov suggests, 'Invest in smart organizational tools, like pull-out trash bins, drawer dividers, and spice racks, to keep everything well-organized and easily accessible.'
Your storage solutions should elevate your design choices. If you have a number of decorative kitchen items, such as aesthetically pleasing pots, plates, vases, chopping boards, and bowls, you can install open shelves or hooks to display and store certain items.
Top tips: take stock of your current kitchen items and assess whether you may need additional storage solutions and where they will be most efficiently placed. 
5. Lighting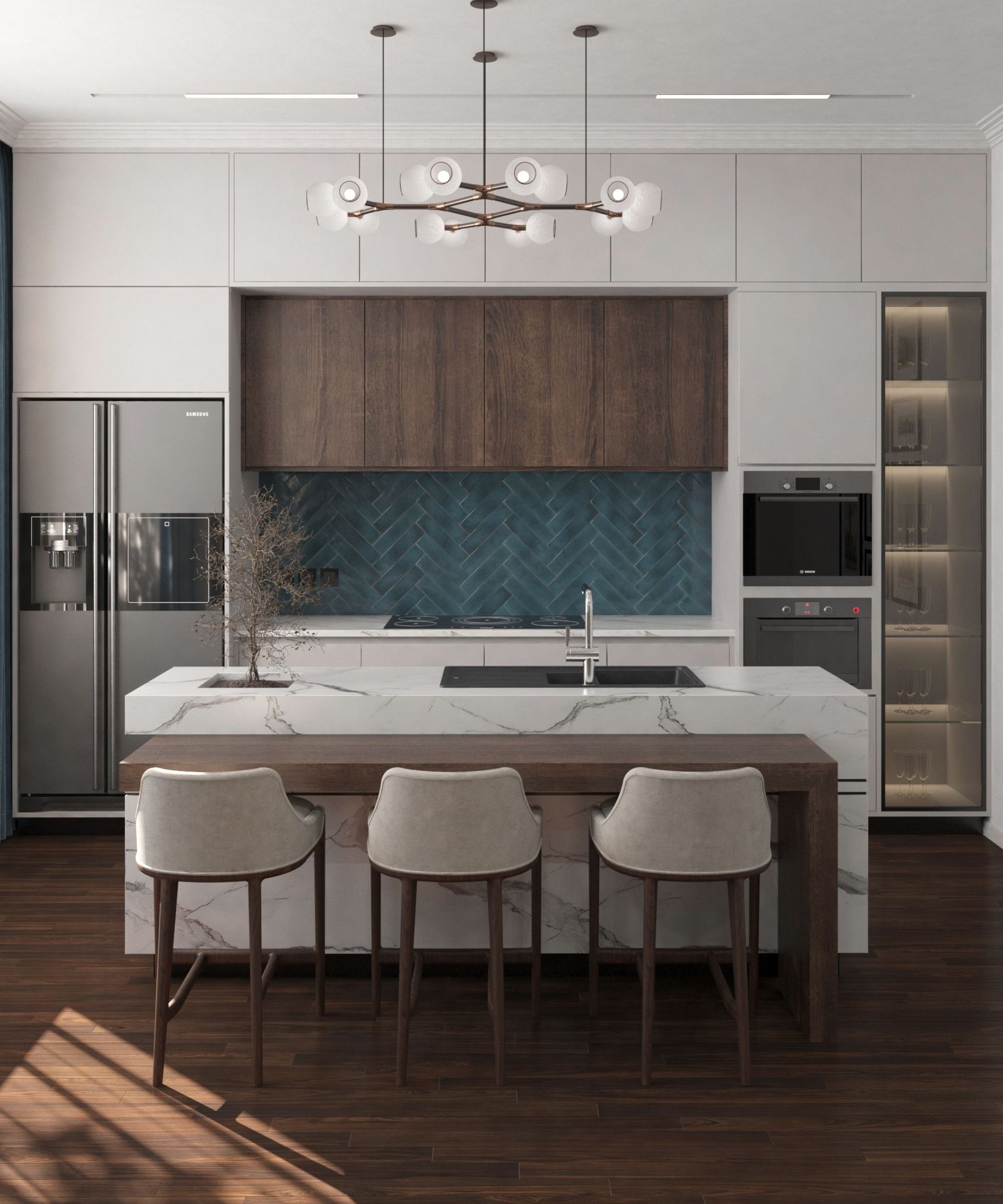 While planning kitchen lighting may seem like a no-brainer, there are three main lighting types that should be at the forefront of your mind when choosing your kitchen lighting: task, accent, and ambient lighting.
'A well-lit kitchen serves a dual purpose – it enhances both functionality and ambiance,' says head of interior design at Renowell, Mariya Snisar. 'To achieve this, I recommend incorporating a layered lighting scheme that combines ambient, task, and accent lighting. 
'Ambient lighting provides general illumination for the entire space, ensuring that there are no dark corners or areas. Task lighting, on the other hand, focuses on specific work areas like countertops, stovetops, and sinks, providing ample light for tasks like chopping, cooking, and washing. Accent lighting adds a touch of style and highlights key features in the kitchen, such as artwork, architectural details, or a beautiful backsplash.
'This layer of lighting creates depth and visual interest, contributing to an inviting and aesthetically pleasing atmosphere.'
You can incorporate ambient lighting with pendant lights or recessed fixtures, install task lighting by adding under-cabinet lighting to enhance visibility, making food preparation more effortless, and illuminate pantry shelves with accent lighting.
You can also consider installing motion-activated strip lights for cabinets to make locating items easier. We love these motion sensor wireless lights, from Amazon.
6. Budget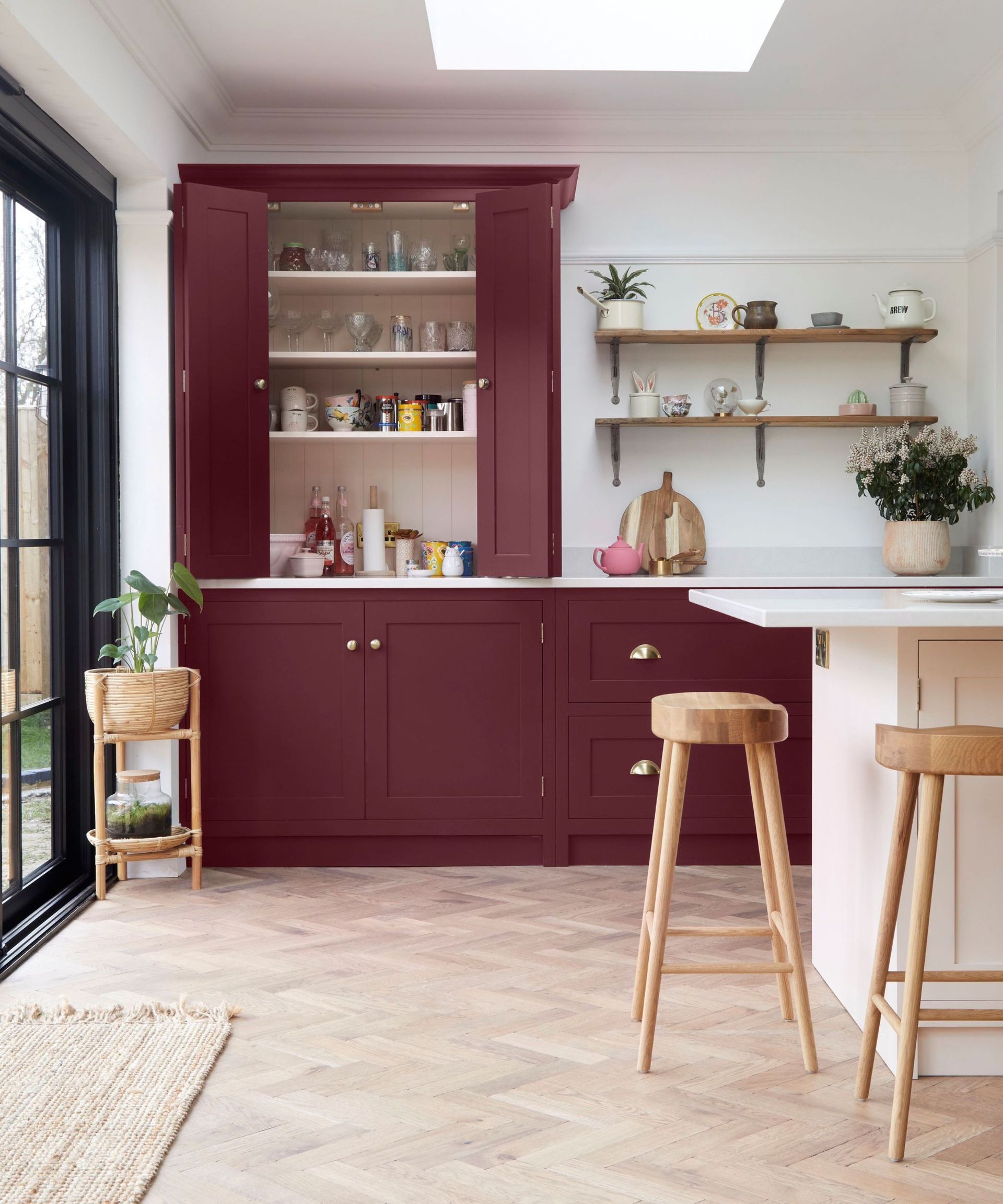 'Finally, I would recommend establishing a realistic budget and timeline for the project,' advises Mariya Snisar, 'This will guide decision-making and help ensure that the remodeling process stays on track.'
Check out our guide for how much a kitchen remodel will cost.
Jacky Chou agrees, 'Budget is the most important factor that will determine the scope and quality of your renovation. You need to have a realistic estimate of how much you can afford to spend on materials, labor, appliances, and other expenses. Ideally, allocate 10% of your home's value for a kitchen remodel. You should also set aside some contingency funds for unexpected costs or changes.'
You can also assess some budget kitchen remodel ideas if you are on a strict interior design budget. Regardless of your spending budget, as long as you thoroughly pre-plan costs, your kitchen remodel should stay on target.
FAQs
How to make my kitchen remodel eco-friendly?
'It's crucial to consider sustainability in design,' says David Mason, interior designer. 'This includes using eco-friendly materials, incorporating energy-efficient appliances, and optimizing natural light and ventilation in the kitchen.'
Cyble Rizwan at Persimmon Design suggests adding energy-efficient appliances, sustainable materials, and even recycling stations to your design.
How long will a kitchen remodel take?
'The timeline of your kitchen remodel depends on the complexity and scale of your project. You need to consider how long it will take to design, plan, order materials, hire contractors, obtain permits, demolish, install, and finish your kitchen', says Jacky Chou, director of Archute.
'A typical kitchen remodel can take anywhere from a few weeks to several months. You should also plan for any disruptions or inconveniences that might occur during the renovation process.'
---
Mariya Snisar suggests two final tips: 'Evaluate your electrical and plumbing needs early in the planning process. This will help avoid costly and time-consuming changes later on. 
'Remember, a well-ventilated kitchen eliminates odors, prevents moisture build-up, and maintains a healthy indoor environment,' so remember to consider these factors when planning your kitchen remodel.