If you're lucky enough to have a laundry room that sits separately from your kitchen or bathroom, you'll know that it can quickly become a place of chaos, with dirty and clean washing abound. Because of this, organizing this space properly, so that everything has a place, is vital to ensuring laundry day runs without a hitch. 
Although a laundry room performs a very clear function, it also operates on lots of different, smaller levels (washing, drying, folding, ironing, etc.) As such, the room should have a clear, logical flow, to stop it becoming an unusable and unpleasant space to be in. Interior designer Melissa Fields, founder and CEO of Shades of Gray Design Studio says, 'Keeping your laundry room organized is so important because you probably spend a lot of time in that space. This also means that every inch of the room should be smartly maximized as efficiently as possible, to prevent clutter from building up.'
However, it can be tricky to know how to organize and arrange a laundry room, given its many moving parts. But according to interior designers, and organizing professionals, there are plenty of options for getting this – usually small – room under control, to allow you to get through your laundry pile without issue; and dare we say it, with a smile on your face.
How to organize a laundry room, according to interior designers and organizing pros
1. Consider the daily use of the space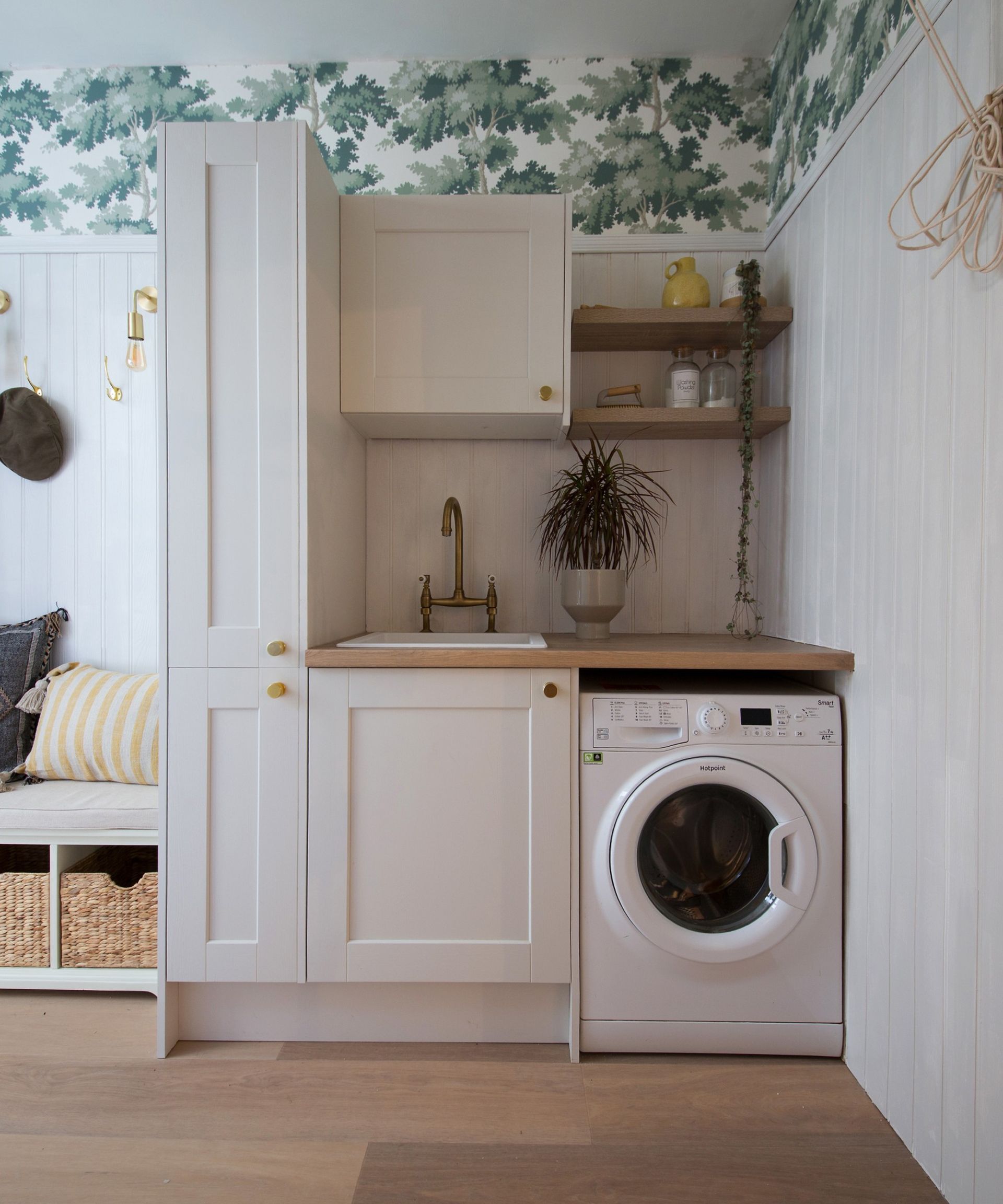 Whether you're organizing a small laundry room, or have a bigger space to play with, one of the main tenets of organizing any space is to consider who will be using it, and how.
Interior designer Lily Brown, of Lily Brown Interiors, suggests considering how your household specifically will, or does, use the space. She says, 'Determine your best practices for how you want to use the room and let that lead the design of your laundry room – for example if you have a big family and laundry day consists of several loads of clothes, you may want to make sure your laundry room can accommodate multiple laundry baskets for sorting.' Or, perhaps you have little ones in your home, and so need regular access to your stain-removing essentials? 
Whatever it is, be sure to consider your specific needs before diving into organizing; it isn't a one-size-fits-all process.
Lily Brown is an interior designer based in Savannah, Georgia; though she works all over the American southeast. After graduating from Savannah College of Art and Design, Lily spent several years working in the commercial design sector doing turnkey office and institutional design before founding her own firm in 2011. Lily is a LEED-accredited professional, an active Associate Member of ASID, and has been named "Best Interior Designer" by Savannah Magazine.
2. Create a natural path between the different zones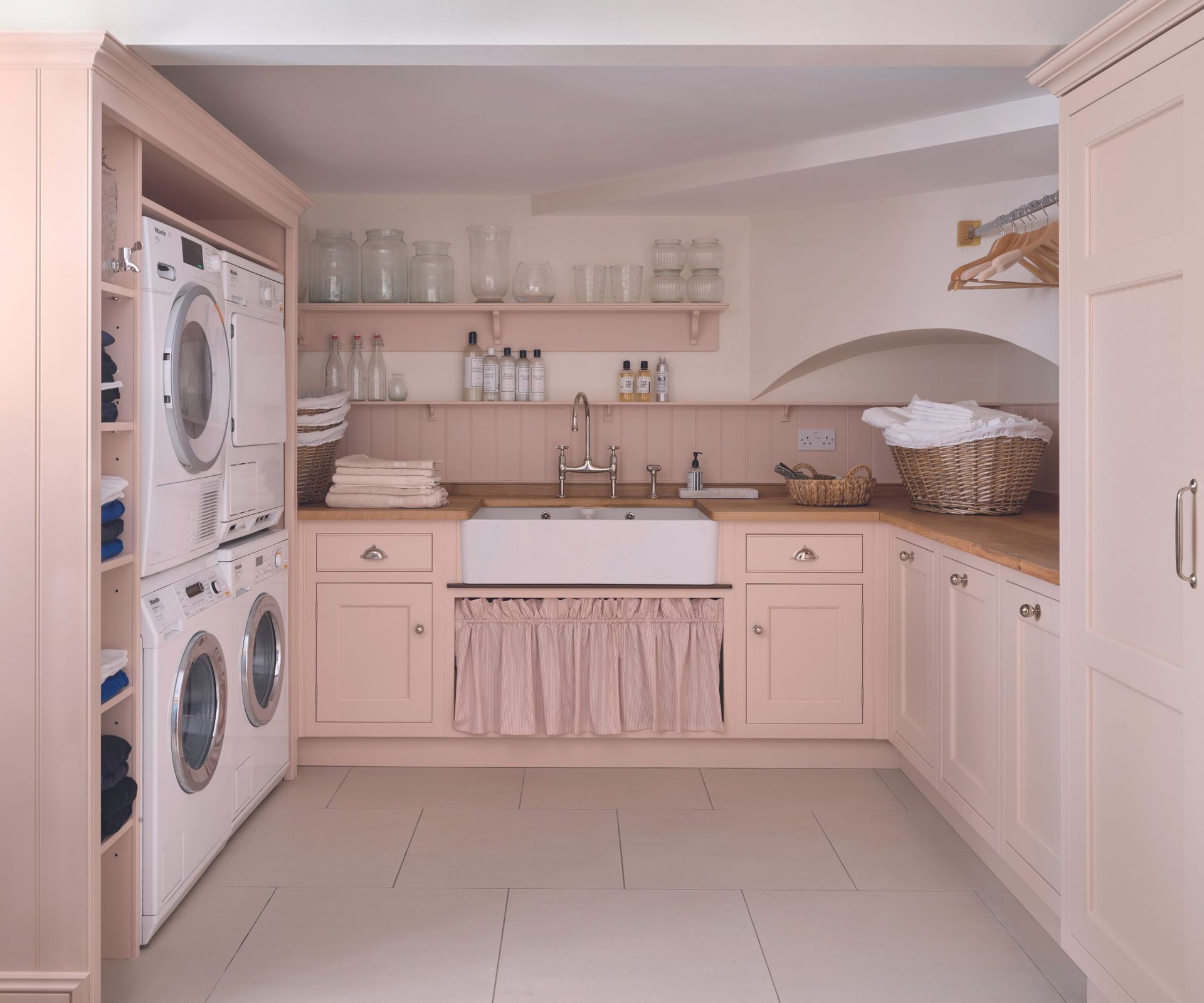 Within your laundry room, you'll likely have zones that naturally present themselves; and if these aren't clear, it's time to define them. Bridget Flynn, Owner of Divine Organizing, says, 'Divide your laundry room into distinct zones for washing, drying, folding, and ironing. By having a designated space for each task, you streamline the entire laundry process.'
Zoning your laundry room is all about making sure the tools and machines you need are in the most logical place, professional organizer Caroline Roberts, of The Simplified Island, says. 'For example, you want your dirty clothes and washing supplies to be near the washing machine, and the dryer supplies and clean clothes bin to be near the dryer; not the other way around.'
You should also make certain easy tweaks to really define your zones, and make the whole room easier to use, Julie Harris, founder of Holloway Home Organization suggests. 'When clothes are finished drying, have the laundry basket waiting under the clothes dryer door to easily empty. Set up a folding station, either in the laundry room if there is space, or in another room, preferably at a counter or counter-height table.'
Bridget Flynn has had a professional background in home organization since 2014. Her expertise lies in optimizing home offices and primary bedroom closets, converting disordered areas into relaxing sanctuaries. Her method emphasizes decluttering, implementing straightforward organizational systems, and choosing products that resonate with the client's unique aesthetic.
When zones are defined, the key to an organized space is to make it easy to switch naturally between these zones – you don't want to be darting from one end of the room to the other during the laundry process. 'Place appliances and countertops in a way that minimizes unnecessary movement,' Artem Kropovinsky, interior designer and founder at Arsight, says. 'If possible, have a clear path from the washer to the drying area, and then to the folding section.'
3. Utilize vertical space properly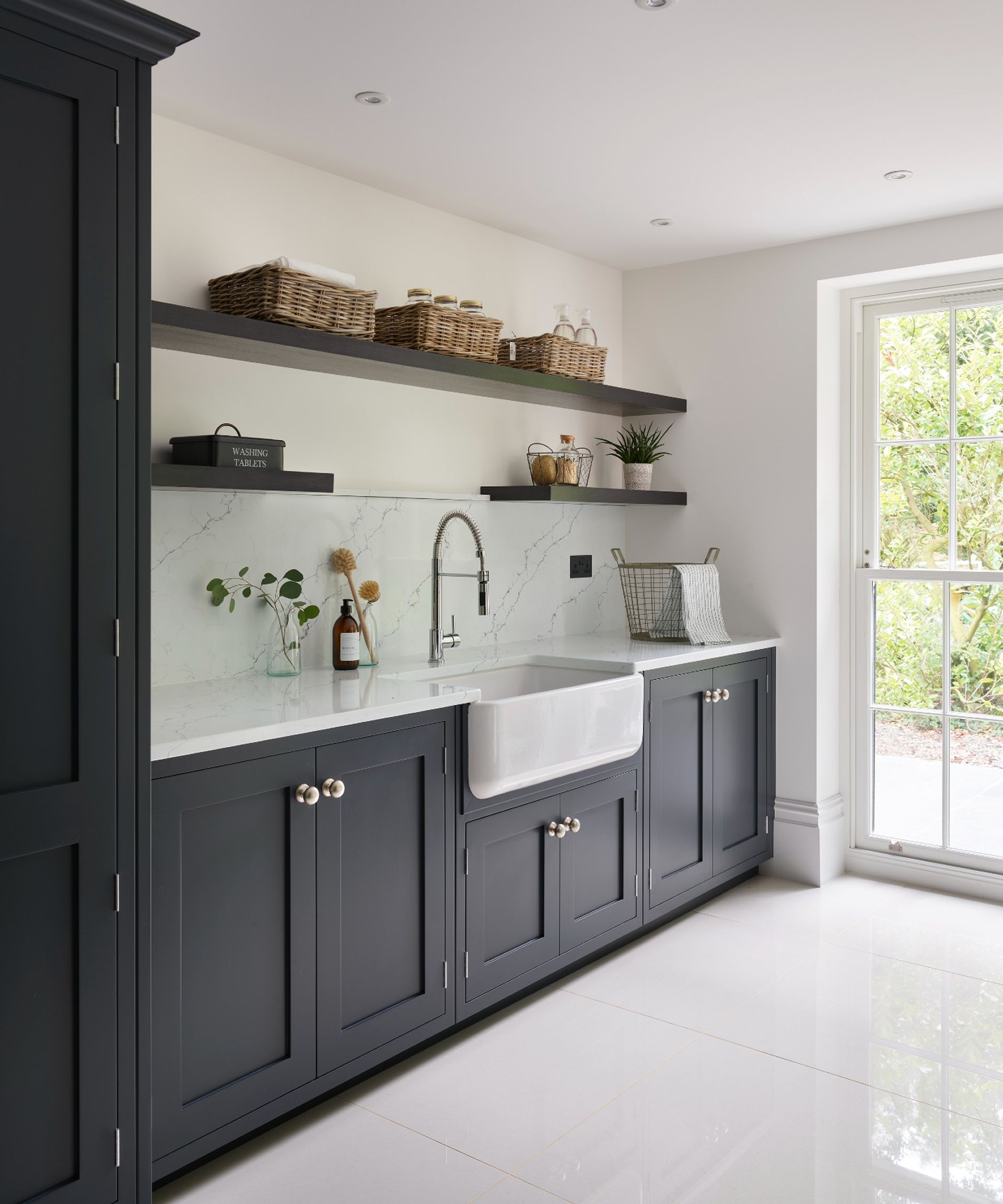 Arguably one of the biggest laundry room organization tips from the interior designers we spoke to, was to make the most of any available vertical space. Artem explains, 'In many homes, laundry rooms are compact. By utilizing vertical space wisely, with floating shelves or wall-mounted drying racks, for example, you can free up floor space, and keep things tidy and organized.'
Of course, built-in cabinetry across your walls is one simple way to do this if you're designing a laundry room from scratch. But if your room is already built, Julie suggests installing a hanging rail to keep things organized, which is easy and affordable. 'A hanging rod is a great way to make use of vertical space in a laundry room; use it to hang clothing that needs to air dry,' she says.
Lily agrees that 'A great way to utilize vertical space in a laundry room is by installing pull-out drying racks that you can hang clothes on.  This is helpful because it keeps items out of the way while they are drying, and you can still move about your laundry room without having something taking up floor space.'
Of course, floating shelves (one of our favorite laundry room shelving ideas) are also relatively easy to install and are a brilliant way to keep laundry essentials within easy access. 
4. Hide away unsightly items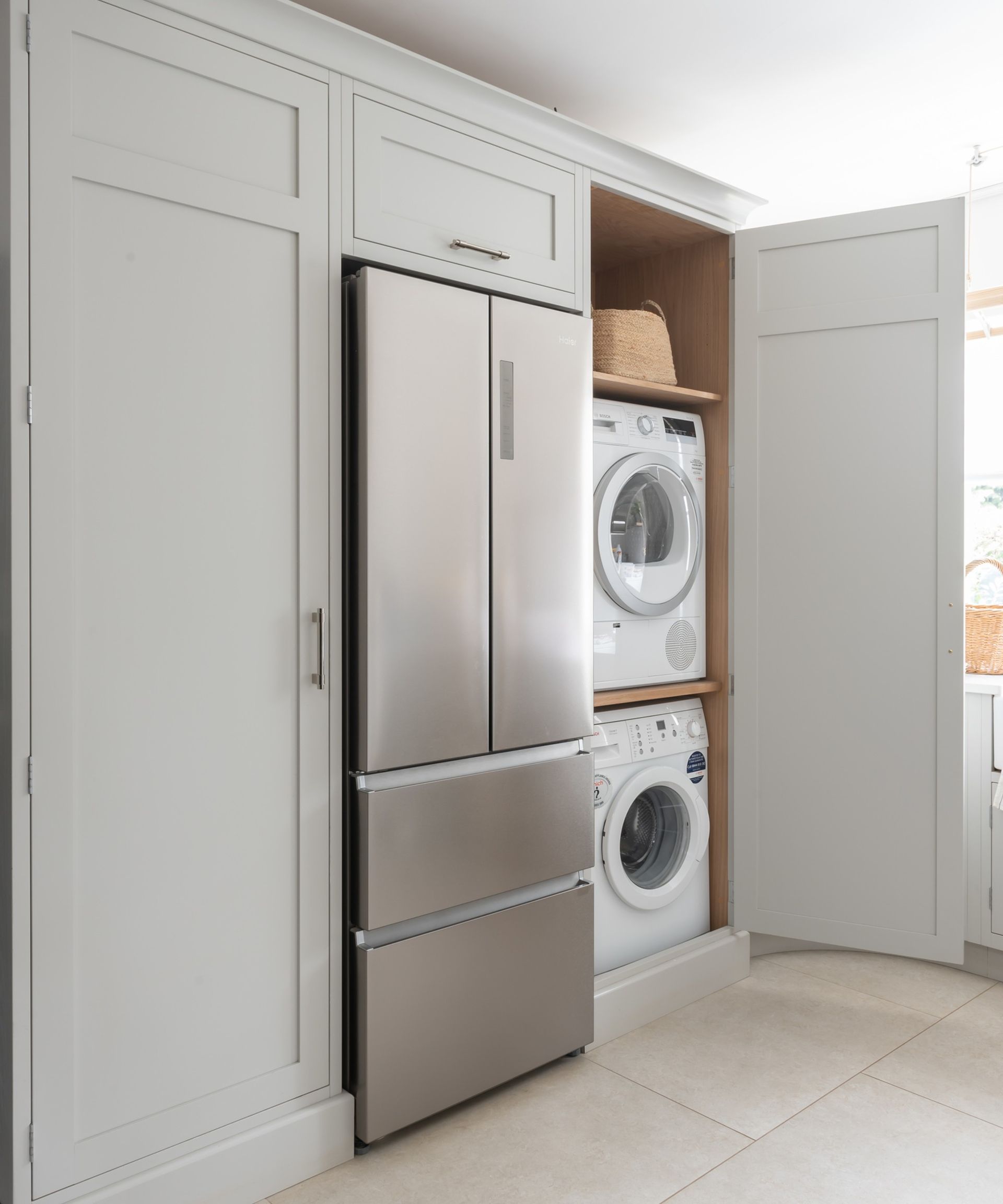 Open shelving is a fantastic way to gain extra space in a laundry room, but to keep your space as organized as possible, Tama Bell, founder and interior designer at Tama Bell Design suggests that built-in, or closed cabinets generally, are essential for storing those less 'aesthetic-looking' items. 
She explains, 'We like to use built-ins with closed storage so that we can hide all the functional bits and keep the chaos contained and quiet.'
Interior designer Tama Bell founded Tama Bell Design, a boutique, full-service interior design firm specializing in residential and commercial renovations and furnishing projects, in 1998. She describes her design style as European traditional mixed with the California coast, and she loves creating spaces that are quiet, elegant and comfortable.
If you are hiding items away behind doors, however, Melissa urges that one of her biggest tricks for organizing a laundry room is to label everything. 'Having all of your items away and in bins, labeled, is crucial – this makes the whole process of doing laundry so much more streamlined because you know where everything is, eliminating the need to rummage through all of your stuff to find what you're looking for,' she says. 
'Once you have your items labeled, I recommend storing like-items together. For example, keep all liquids or powder detergents (or softener and stain removal agents) together, dryer balls with dryer sheets and dryer cleaner cloths, etc.' This will allow easy access even if your items aren't immediately visible.
5. Ensure laundry essentials are within easy reach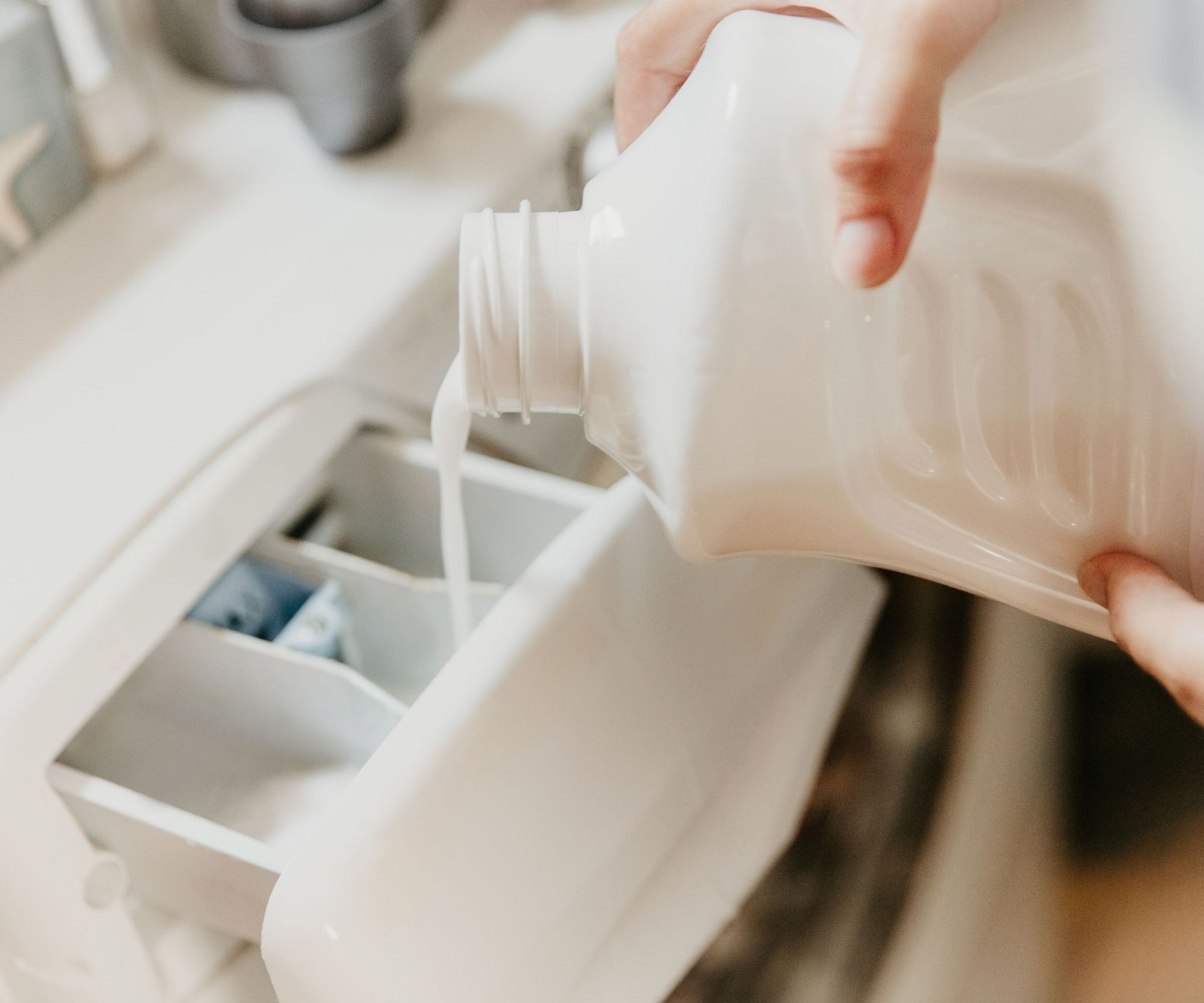 When organizing your laundry room, make sure that everything you use on a regular basis is easy to get hold of – because there's no reason to make laundry less appealing than it already is.
'I recommend storing laundry essentials on a large turntable on top of the washing machine,' Julie says. 'Detergent containers can be heavy and having them as close to the main wash compartment is ideal, and a turntable is key for quick and easy access to all items.'
Similarly, remember that less essential items shouldn't take up these prime storage spots. If you try to stuff less essential items into important spots, you're going to end up with overcrowded, disorganized storage.
'The specialty supplies that aren't used as often (stain remover, lint comb, laundry bags, sewing kit, etc.) can be stored in the back of a cabinet or on a higher shelf,' Caroline says. 'I use bins on higher shelves so I can pull the entire bin down for what I need.'
6. Create ample surface space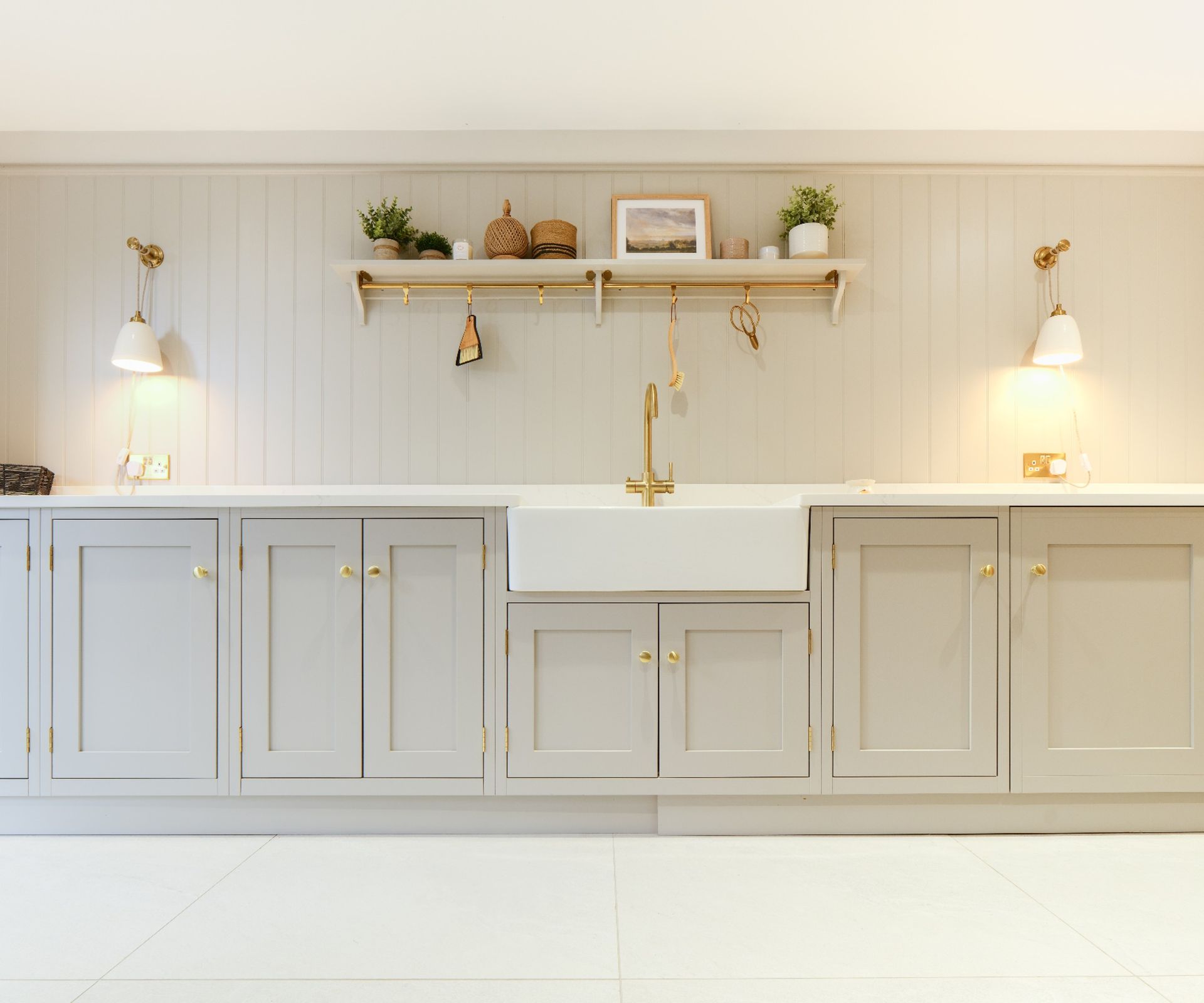 Though storage is essential in a laundry room, the interior designers we spoke with pointed out that it's just as important to have adequate laundry room countertop space to work on, too.
'So often laundry rooms are crowded with built-ins, which can be great for storage – but laundry is about setting down baskets, sorting socks, and folding clothes, all of which require a large, uncluttered surface,' Lily says. 'For example, if you have to move something out of the way to lay down your ironing board, you are less likely to use it.'
If you don't have a built-in surface area already, a wheeled trolley with a surface will do the job, or consider introducing a small console table or dining table to the space instead.
Just be sure that whatever surface you have doesn't require you to hunch over it, as it needs to be easy and comfortable to work at. Tama explains, 'We always add a standing height folding area to expedite the actual work done in this room.'
7. Incorporate multiple laundry bins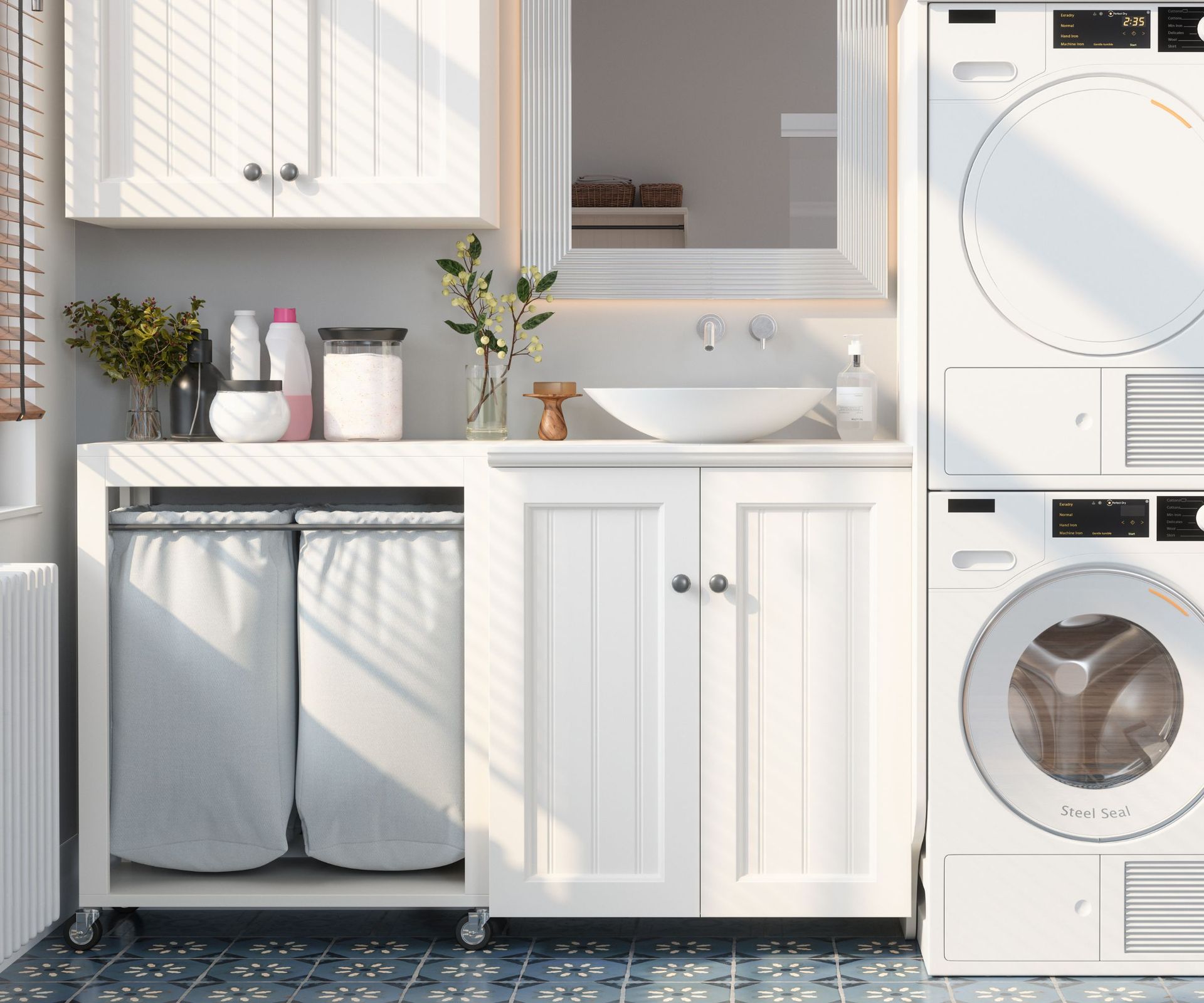 'Hamper storage is vital, and we recommend having different bins so you can separate laundry in one easy step,' Tama says. This is a particularly essential organization tip if you live in a home with lots of family members; different bins within your laundry room will allow you to separate darks from whites, and any clothes that have stains that need addressing.
You can buy all sorts of multi-section baskets for laundry room storage, which come in fabric, plastic, or even rattan depending on your style. You can also purchase these on wheels, which can be helpful if your laundry room is on the larger side and you want to be able to move it around.
However, Caroline reminds us that it's also important to have laundry hampers in each of your separate bedrooms too. 'I prefer using laundry rooms as a place to do the laundry but not as a place to store clean or dirty clothes for too long,' she says. 'Usually, it's best for dirty clothes baskets to be as close as possible to where you change your clothes, so they don't end up on the floor or chair.'
Of course, where you store dirty clothes is your personal preference – but if you have a large family, it can be helpful to have laundry hampers in both the bedrooms and the laundry room, consolidating all the dirty items in the latter.
8. Incorporate fun design details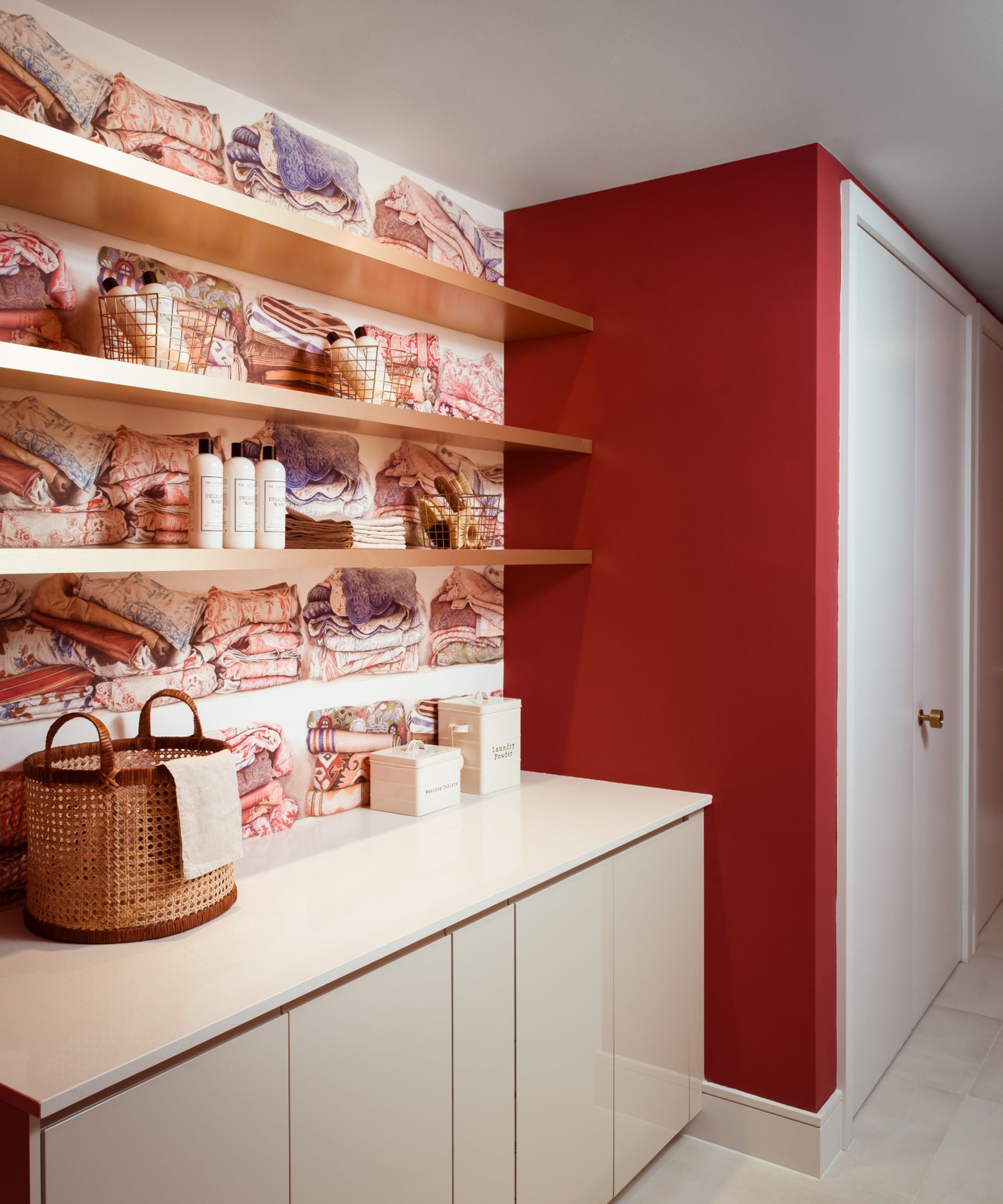 Though there are plenty of practical elements to organize in a laundry room, this is a room where it's equally important to be playful, too. 'Your laundry room should be more than just functional; it should be a space that you enjoy spending time in,' Bridget says. After all, many of us will spend hours in this room on a weekly basis! 
Lily agreed, suggesting that a touch of personality is often key in this space. 'I think laundry rooms should be delightful; often that means installing a beautiful wallpaper or maybe a unique piece of art.' It can even be a fun place to hang personal family photos, or to put a cozy rug in; if you're going to be spending a decent amount of time in there, it should at least be comfortable.
9. Consider what else the room might double as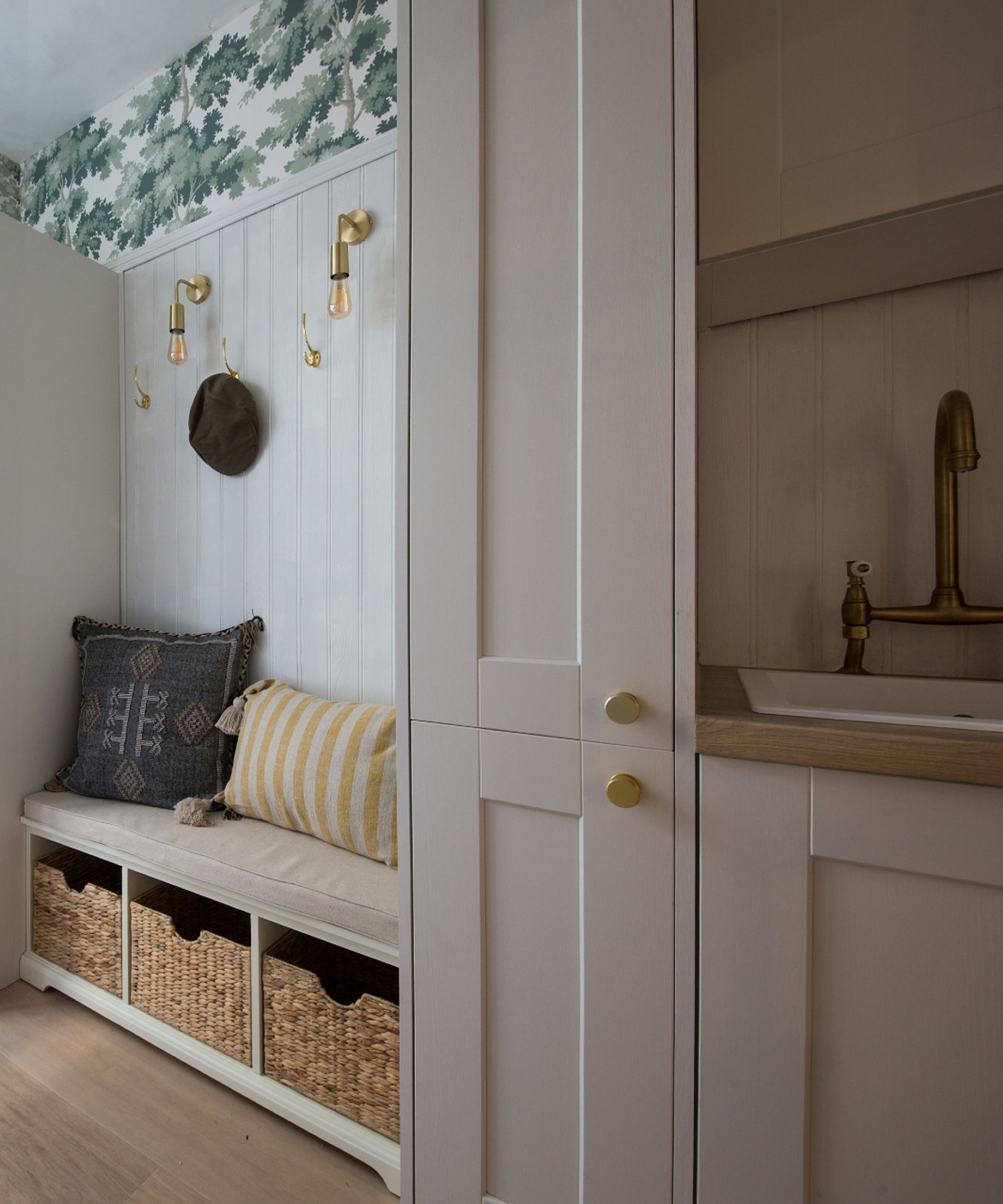 Finally, organizing a laundry room effectively means thinking practically about whether it has a dual purpose. It goes without saying that it will be a place for you to wash things, but realistically, are there other uses for the room that you haven't considered?
'Is this also a utility space for flashlights and toolboxes? Will your laundry room double as a gift wrap area?' Lily asks. 'I have designed and installed specific drawer organizers and other elements within laundry rooms to accommodate functions other than washing clothes.'
It might even be that your laundry room doubles as a mudroom or entryway; if this is the case, be sure to consider where mucky shoes, coats, and bags might sit within the space – ideally away from any clean washing that may be hanging up or folded. Equally, you may for example want to think about whether you need a bench to sit at, to put on shoes.
How do I style my laundry room?
Laundry rooms are the perfect opportunity to go bold in your design, even if you usually opt for safer neutrals. Given that it is usually a smaller space, you can afford to take a risk; so why not opt for a bold paint shade or a beautiful patterned wallpaper, as suggested above? 
If you're worried, you can try these louder wall ideas along just one wall, to see how you feel.
When it comes to styling the room, open shelving is a no-brainer for adding a bit of personality. If you're not using these shelves for practical items, try decorating yours by propping up fun prints or personal pictures. Or, add vases with faux flowers or foliage inside. It can even be a perfect place for more decorative items, such as antiques you may have picked up.
And, you'll likely thank yourself for bearing in mind the six things people with nice-smelling laundry rooms always do!
---
Though it sounds like an intense job, your laundry room is one of the easiest spots in the home to organize, given that it's usually a much smaller space, and that its function is very clear. So if you're after a relatively speedy organizing task that you can tackle in a day or less, this is the one – we'd suggest reserving a little more time for bigger jobs like organizing a kitchen or organizing your entire home.