Cozy corner ideas are currently having a moment in the spotlight – and for good reason. This interior decor trend strikes the perfect balance between rustic and homespun; like an escape to the countryside without leaving the city limits.  
Hoping to put some cozy corner ideas to work in your own home? We've selected the essential aspects of cozy decor – these practical, expert-approved tips and ideas will ensure your once neglected corners and nooks reflects the chic and modern aesthetic while still maintaining a contemporary and understated appeal.
We've assembled some inspiring cozy room corner ideas, looks and expert advice to kick-start your creativity.
Cozy corner ideas
The corners of a room are rife with decorating opportunities. While it can be tempting to leave an empty corner vacant, you would be surprised at how easy it can be to decorate this unloved space into a cozy corner for rest and relaxation. 
Here's how to transform neglected nooks into functional and inviting spots that will make your cozy room ideas all the more beautiful.
1. Use a single color palette 
When we think of blue, we may not instantly conjure up notions of warmth or coziness, but used as an all-over color scheme, blue can have a transformative effect in a small bedroom.
In this cozy bedroom, interior designer Lucy Barlow has created a sleeping nook by taking the color through the walls and woodwork and then introduce a bold stripe fabric with a complementary raspberry.
'Bold, impactful and elegant, this is known to be a very calming hue making it a great choice for a bedroom,' says Lucy Barlow, creative director, Barlow & Barlow (opens in new tab). 'Adding accents of red or pink help soften and warm up the space.'
Polly Ayrton and Vanessa Church, co-founders, Church & Rose (opens in new tab) agree: 'This is a clever color, adding contrast to a room without being too overpowering. We love that it can be mixed with other warm, strong colors to create an atmospheric yet comforting space without creating the cold perception that one might initially think when suggesting blue tones.' 
2. Trick the eye with a dark color scheme
Daring and decadent, black living room ideas can be difficult to get right, but once mastered, they can add an warmth and coziness to your cozy living room like no other color.
'While dark colors tend to advance (close in), black has the magical quality of infinity, which means you are less aware of room proportions,' explains O'Donnell. 
If going for an all-over black color scheme is just too daunting, then decorating with brown or blue will have a similar effect.
Decorating with black gives you the blank canvas you need to add in either splashes of bright color, warmth with natural materials, such as wood, or texture in rugs, throws and other textiles. 
3. Carve out a cozy niche
While rich caramel hues definitely belong to the neutral color family, they are anything but plain – there is a luxuriousness and coziness to them that is at once refined but also bold. This shade instantly makes a room feel grounded and whole.
In this cozy corner, interior designer Paolo Moschino (opens in new tab) painted the inside of the alcove in a rich caramel color. He cleverly added a plethora of colorful cushions to carve a comfortable niche in this dressing room-cum-guest room.
This color creates a cozy, cocooning space,' says Justyna Korczynska, senior designer, Crown Paints (opens in new tab). 'It pairs beautifully with all natural materials like wood, stone, clay and natural fabrics like linen or jute.'
4. Use lighting to create ambience 
'Some people feel the need to flood small spaces and living room corners with ceiling lights to make them feel brighter and therefore larger,' says Claire Sa, director, De Rosee Sa (opens in new tab). 'However, I think atmosphere and dimension can be added to small spaces with different levels of controlled lighting. The lowest level might be lamps on side tables; the next would be lamps on a desk, console or chest.' 
'Finally, add fewer rather than more directional ceiling lights, positioned closer to the walls and angled away from the center of the room to create a feature glow on, for example, a piece of wall art.' 
5. Consider the position of your room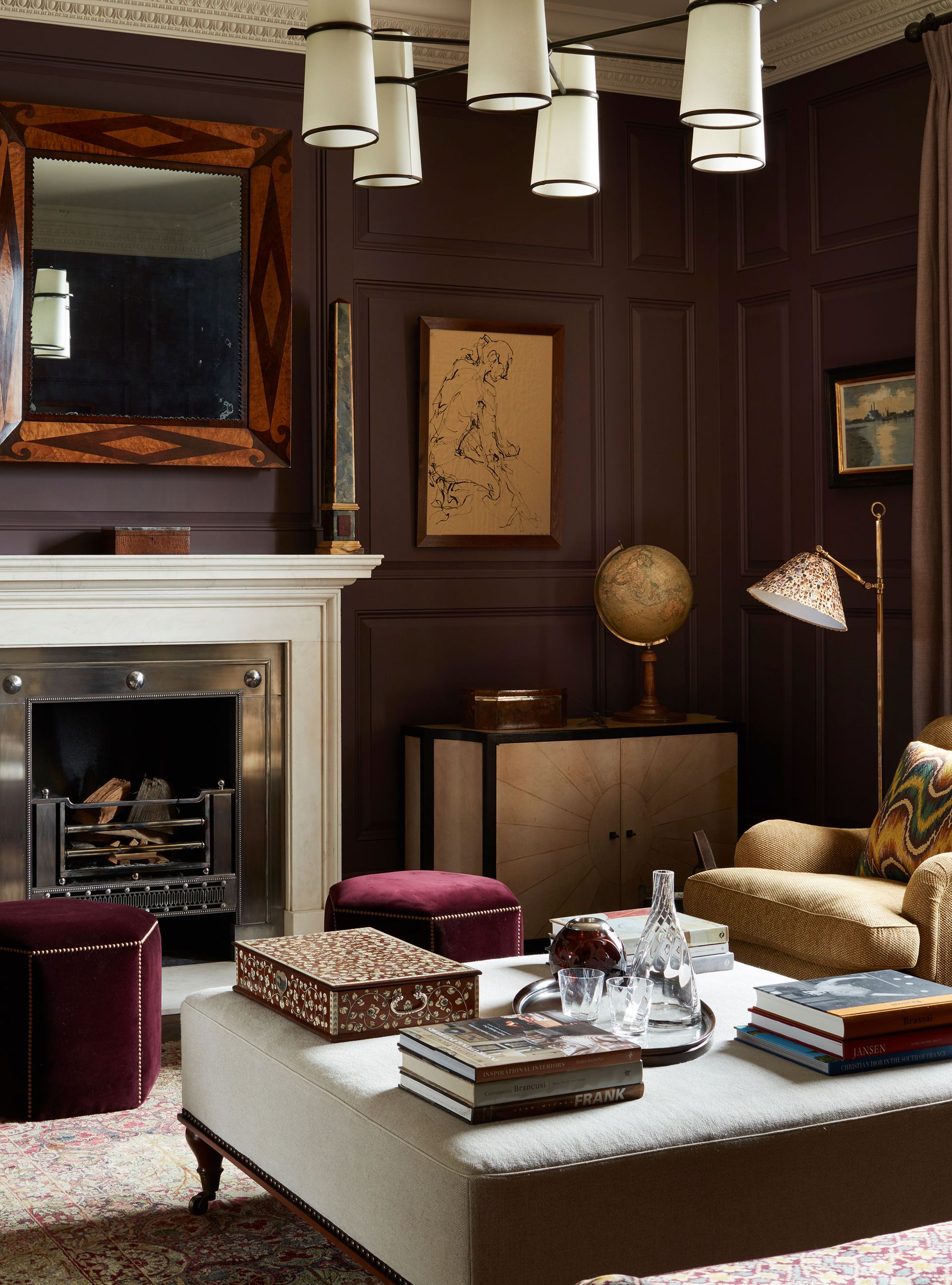 Considered a dark neutral, earthy brown is grounding but also has an elegance that is truly sophisticated. Versatile, it can be striking on its own or allow other hues to stand proud.
As this sitting room is primarily used as a night room, Studio Indigo upped the atmosphere by choosing this rich shade and adding tones in cream and burgundy.
'We believe north-facing rooms should be painted a dark or strong color, like brown, to make it more cocooning and those on the south side in lighter colors,' says Mike Fisher, creative director and founder, Studio Indigo (opens in new tab). 'The thinking is where you have darkness you should bring color, warmth and joy.' 
Natalie Forbes and Louisa Rix agree: 'Don't be scared to use dark colors in a gloomy, dark living room. It's never going to look light, so choose a fab rich color and the effect can be truly transformative in a cozy corner.' 
6. Add warmth to a white bathroom with cozy furnishings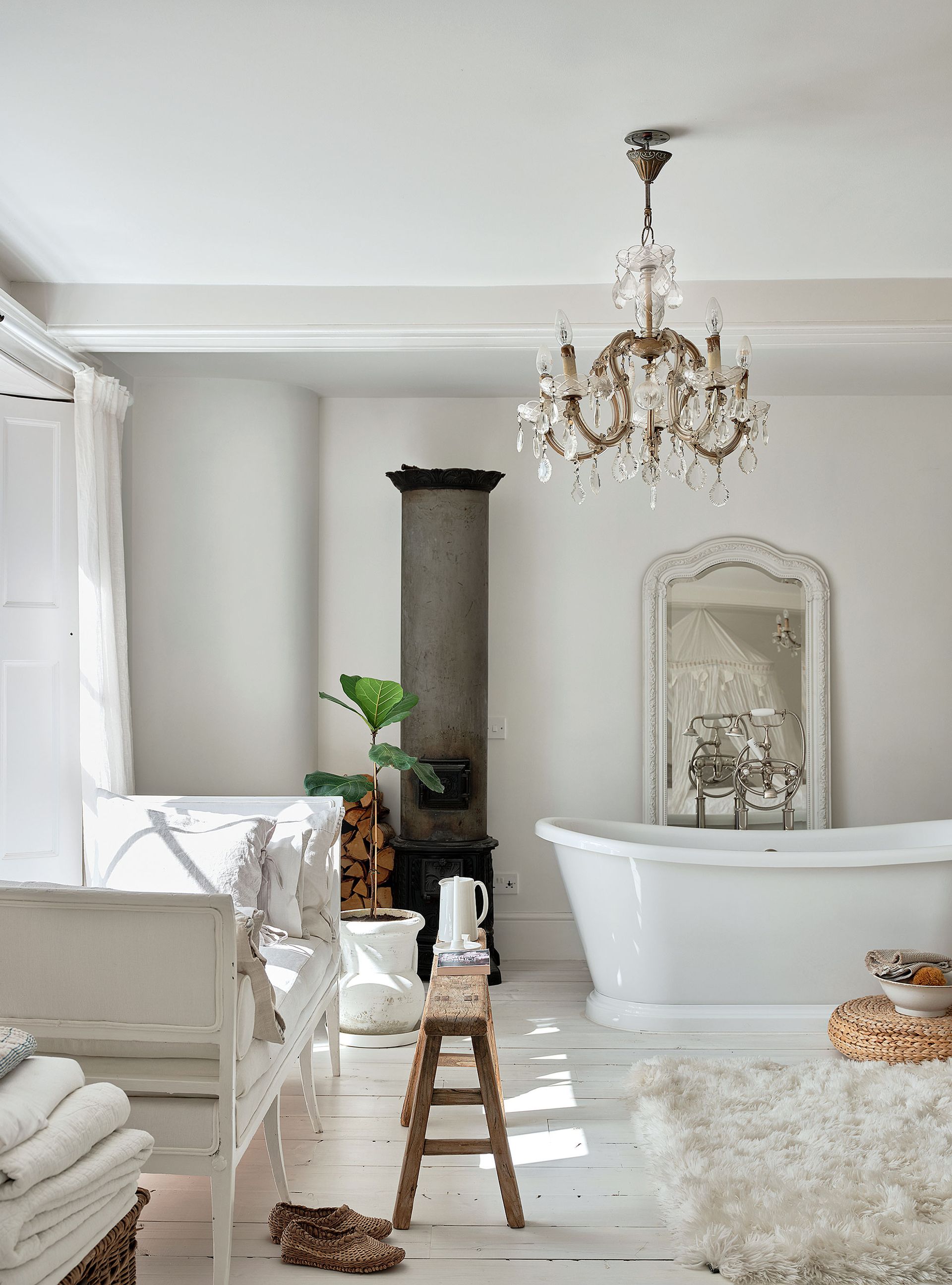 Set the scene for relaxing and rejuvenating in your bathroom by creating a cozy corner for five-star pampering.
A white-on-white palette is fresh yet sophisticated and, mixed with time-worn antiques, can channel the laid-back chic of an exclusive country spa hotel. 
For her own home, White & Faded (opens in new tab) founder Janet Parrella Van Den Berg layered up the texture – sheepskin, washed linen and old, whitewashed floorboards – to create a crisp white bathroom that's surprisingly warm and inviting. 
'With a white palette it's all about how the light falls, the sun shines and the shadows play,' she explains. 'White changes through the day and brings details and shapes into focus. It makes me feel uplifted but calm.'
7. Pair warm brown with eclectic blue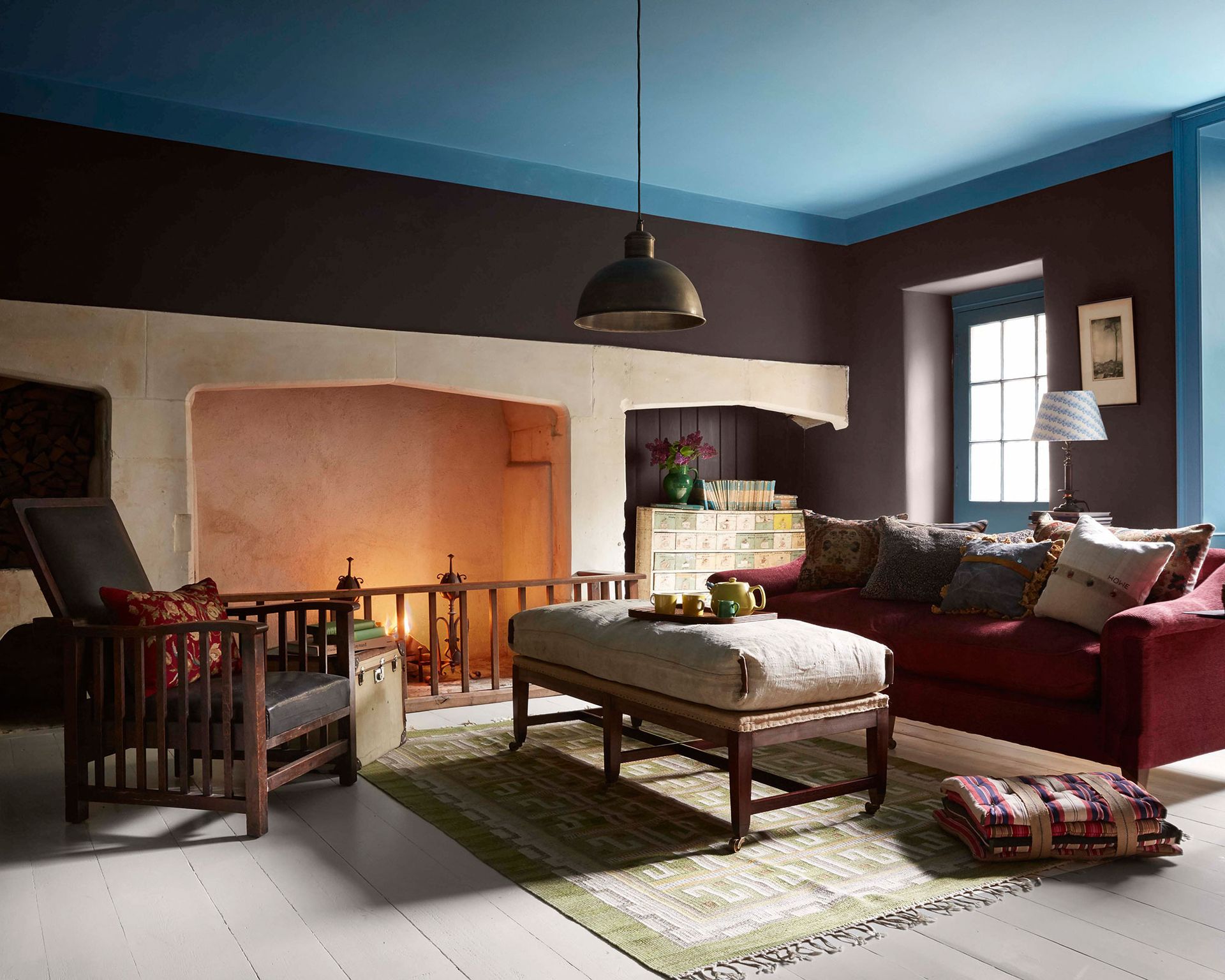 Deep chocolate brown walls sound as delicious as they look. A confident hue for an all-over color, yet equally perfect for pairing with brights and pastels for a modern take on cozy decor.
We're seeing a resurgence of more earthy tones used in interior design. Surprisingly rustic hues work beautifully in modern properties as a juxtaposition against strong lines and minimalist furniture.
'A brilliant foil for pretty much every color, the darker the tone the sharper the contrast and that's when I like it best,' says Nicola Harding, interior designer, Nicola Harding & Co (opens in new tab). 'Farrow & Ball's Tanner's Brown is a great choice. Teaming brown with blue has a particularly electric effect in this cozy corner.' 
8. Warm up a kitchen with harmonious colors
Deep purple in all its dark, dramatic and nuanced glory is guaranteed to bring both opulence and intimacy to cozy corners, especially those with little natural light.
'Decorating with deep purple is about selecting the right tone,' says Joa Studholme, color curator, Farrow & Ball (opens in new tab). 'Purples with an underlying red create a warm, intimate space, while blue-based ones are more dramatic. Purple works best in small spaces deprived of light, so is ideal for creating jewel-box rooms.' 
Here the rich, dark purple on the under-counter kitchen cabinet has a grounding and softening effect on this space, allowing the pink walls above to appear lighter and brighter.
9. Use color to create depth 
Good design can turn a cozy corner into a sanctuary. This dramatic scheme by Thurstan proves dark hues will ensure a compact room stands out. 
'We would usually lean towards quieter palette combinations, but darker shades can work really well within smaller spaces,' says James Thurstan Waterworth, founder, Thurstan (opens in new tab). 
'They create a perception of depth and lend a cozy, cocoon-like feel – welcome in every bedroom. For the walls, we suggest a deep midnight blue or a petrol green, then lift this by layering careful accents of color, perhaps a burnt orange or a similar earth-toned hue – ochre, terracotta or a softer peach.' 
What do you put in a cozy corner?
The best thing to put in a cozy corner is plenty of texture and warming colors. Using texture in interior design can determine how a room looks and feels, from warm and cozy to cool and contemporary. 
Layering textures helps to add depth too. 'The layering of materials, colors and shapes all amount to give your interiors an overall texture which can define the look and feel of a space,' says Martin Waller, co-founder of Andrew Martin (opens in new tab). '