Quiet luxury has been abuzz in the fashion and design world for some time now, but achieving the quiet luxury trend in your living room is so much more than just a concept, it is a lifestyle; one that many people have been embracing wholeheartedly. 
It is also not as unobtainable as it may at first appear. In fact, just a few well-chosen home decor ideas can turn the main room in your home into a luxurious space that is perfectly composed and enriching. But why the sudden popularity of this 'palette cleanser' decor?
In a world where everything at times feels so fast-paced and chaotic, more and more people are turning to quieter, softer decorating ideas at home. Now, more than ever, we seek comfort and luxury in our homes; spaces that exude warmth, elegance, and serenity. 
What people are longing for now, says the editor-in-chief of Homes & Gardens, Lucy Searle, is delightful decor that evokes an emotional response – something that makes us feel happier at home. The 'quiet luxury' interior design trend is here to give us just what we need.
How to achieve 'quiet luxury' in a living room
Initially popular in the world of fashion, 'quiet luxury' offers a refreshing alternative to the chaos of modern life, allowing you to transform your living room into a tranquil oasis without sacrificing sophistication, style or elegance. Here's how to get it right, every time.
1. 'Hush the house' with timeless materials and neutral colors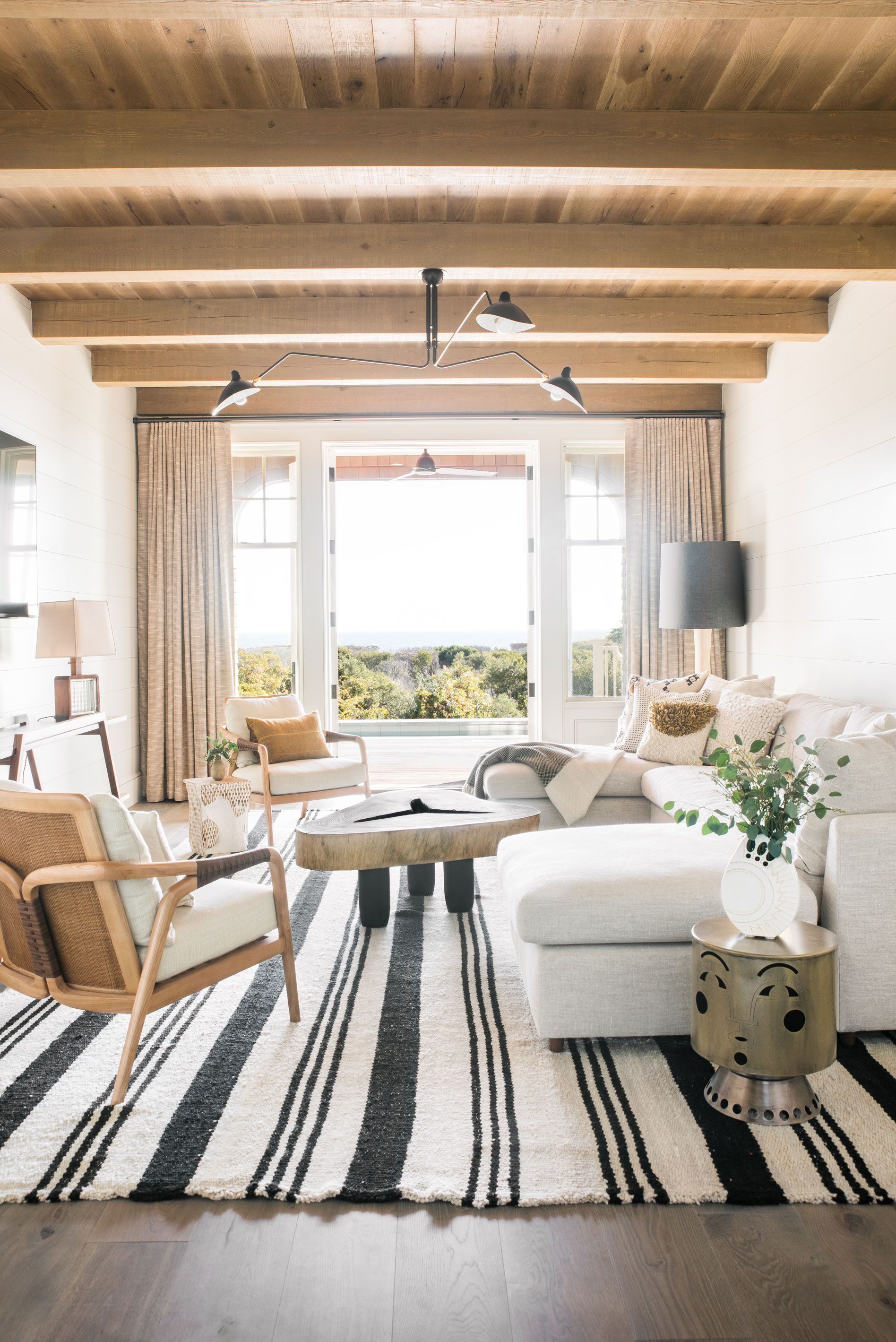 Originating from an organization and decluttering standpoint, quietening the home, also known as 'hushing the house' is all about creating a calm, muted space where the colors, shapes, and materials in our home can sing rather than shout. It's all about embracing a less-is-more mentality when it comes to our home ideas while maintaining warmth through color and texture. 
South Carolina-based interior designer Cortney Bishop is a master at perfecting a quiet luxury living room. Cortney Bishop is well-known for her modern design vision that runs the gamut of style and structure, balancing comfort with creativity and functionality. 
She brings this to the living rooms she designs by combining neutrals with a ton of wood textures, which make the spaces feel easy to live with, airy and bright, but warm and welcoming, too. Here, the wooden ceiling is the star of the show, subtly echoed below by the warm tones in the furniture and soft furnishings.
2. Decorate with 'quiet' beige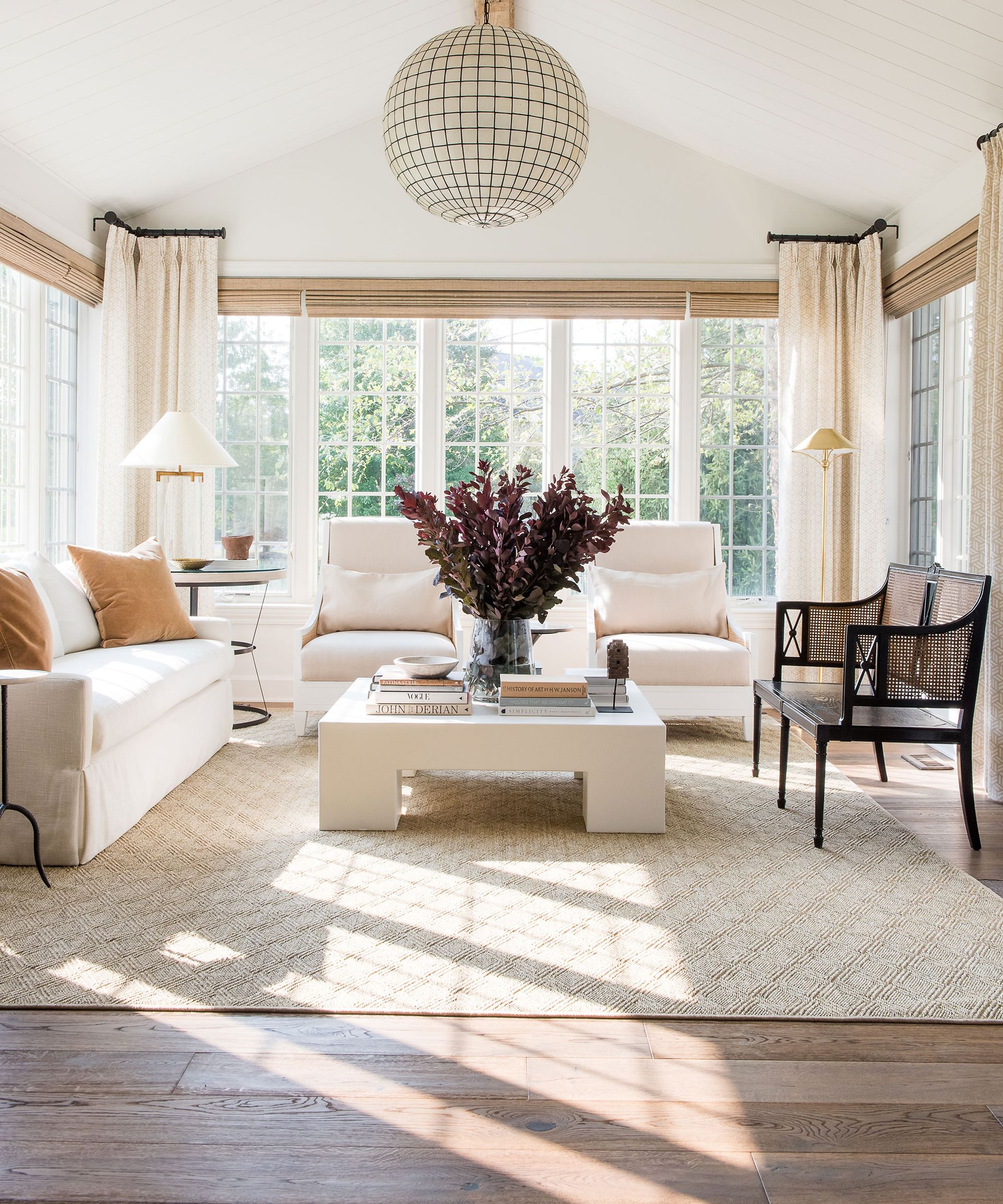 Contemporary yet timeless in their simplicity, beige room ideas have become a stalwart in the world of interiors, especially when it comes to achieving quiet luxury. 
This once-detested color scheme has had a much-welcome modern makeover, and designers and decorators alike are extolling the virtues – and health benefits – of using beige and other quieter neutrals in their living spaces.
No one more so than Indianapolis-based designer Whittney Parkinson. 'This space was designed with one aim in mind – relaxation. When decorating with neutrals a key element is the importance of layering with textures and tonal shades. 'Touch and comfort are key sensory triggers. When decorating with white and neutrals, it is crucial to add in natural elements and pile on texture; a soft rug underfoot, or a diaphanous drape at a window can truly transform a room,' she says.
The power of a neutral color palette to add quiet elegance to a room should not be underestimated. Here, a soft scheme of harmonious neutrals creates a reflective backdrop to the ever-changing light of the seasons.
Whittney then began her career as co-owner of the architecture & interior design firm, MAWR Design, working with her father from 2008, until founding Whittney Parkinson Design in 2016. As a young designer in the field, Whittney designed projects varying from high-end residential to a vast array of multi-million dollar commercial projects around the Midwest.
3. Let a serene, earthy palette take center stage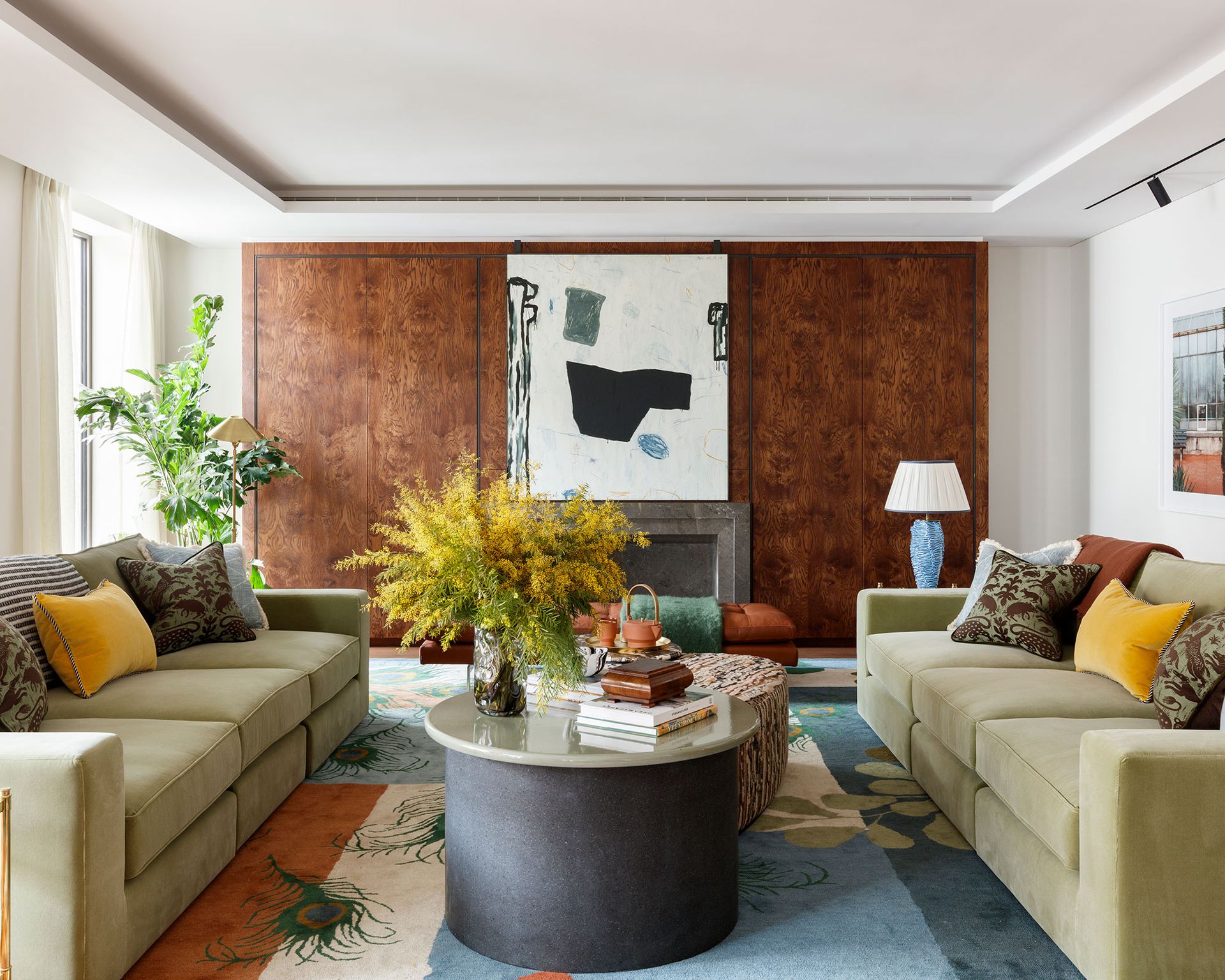 Interior designer Sophie Ashby is no stranger to curating spaces that embody quiet luxury. Here she reveals that nature provided the inspiration for this living room's welcoming, earthy palette. This is quite a grown-up room, and the seating arrangement reflects this, with a pair of bespoke, classic couches in sage-green velvet, teamed with a tan daybed. 
'The palette was inspired by Holland Park in London and features neutral colors: greens, blues, russets, oranges and yellows,' says Sophie. 'We started with the rug, which we designed as an ode to the park, incorporating peacock feathers as well as leaf motifs.'
'When looking at softer aspects within a space, opt for richer colors that can give a sense of warmth. If you are looking for a more trend-led design then focus on investing in items with fringing or trims as it adds more depth to the design,' advises Holly Gannon, design manager, Milc Interiors.
4. Unite classic and contemporary elements for an elegant statement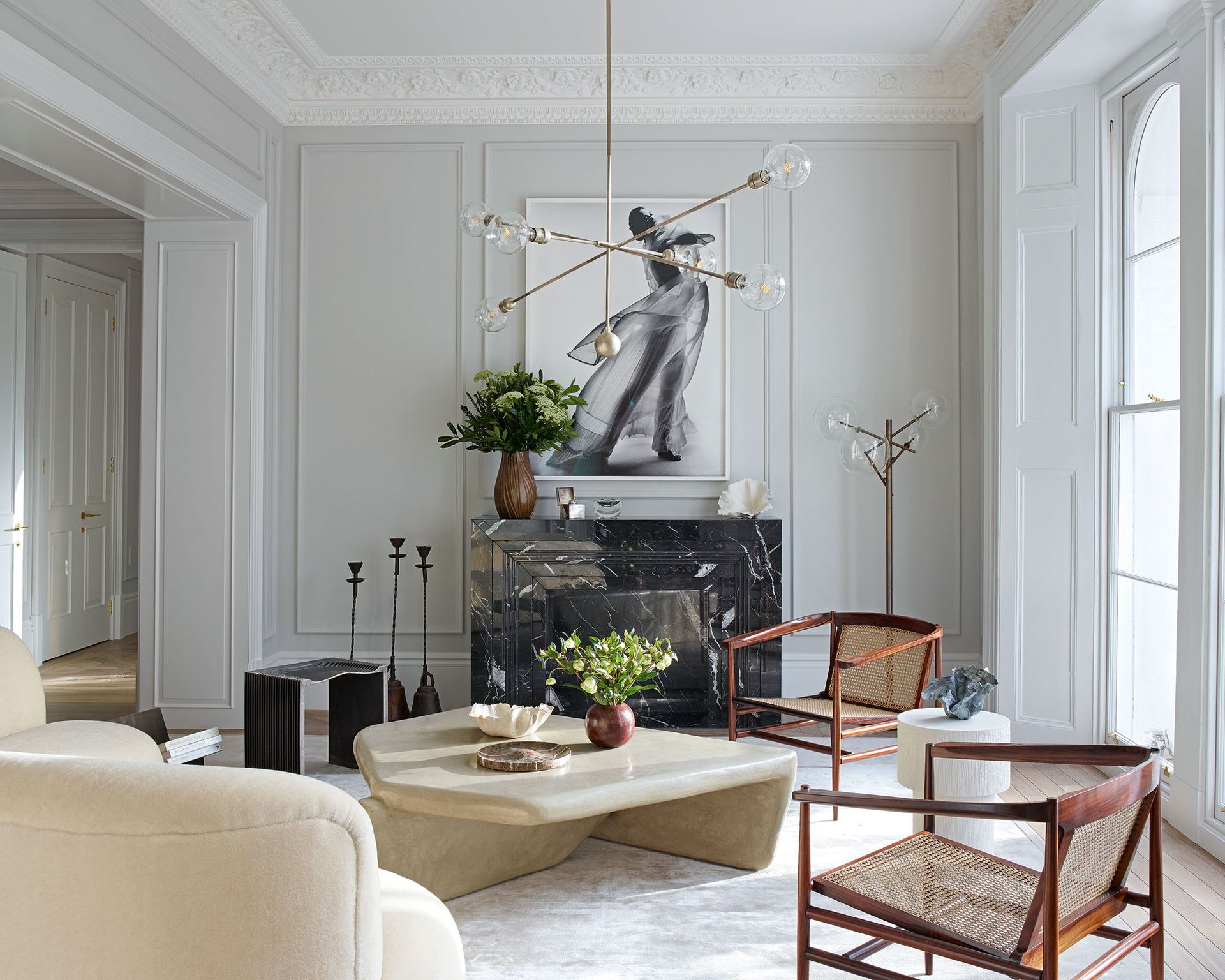 Beige is not the only way to achieve a quiet, understated aesthetic in your living room. Off-white and gray can work just well to soothe the chaos of modern life.
'Gray harmonizes well with almost every other hue, making it a most adaptable neutral and giving good reason for its popularity,' says Helen Shaw, director at Benjamin Moore. 'Of all the neutrals, gray is one that instantly brings gravitas.'
In this space, Katie Harbison of property development and design studio Banda achieves an elegant mix of modern and mid-century modern living room design in this room. Allow the room's beautiful proportions and original moldings to shine by keeping the backdrop neutral. 
'Walls are painted in a subtle gray and the floor is a natural oak, topped with a silky grey rug,' explains Katie. The sofa's rounded shape almost embraces the angular coffee table by artist Thomas Markunpoika. Every piece in the room is individual, but together they create a sense of harmony and quiet, thanks to their natural colors and subtle textural interest.
5. Select tonal colors and timeless materials that mimic nature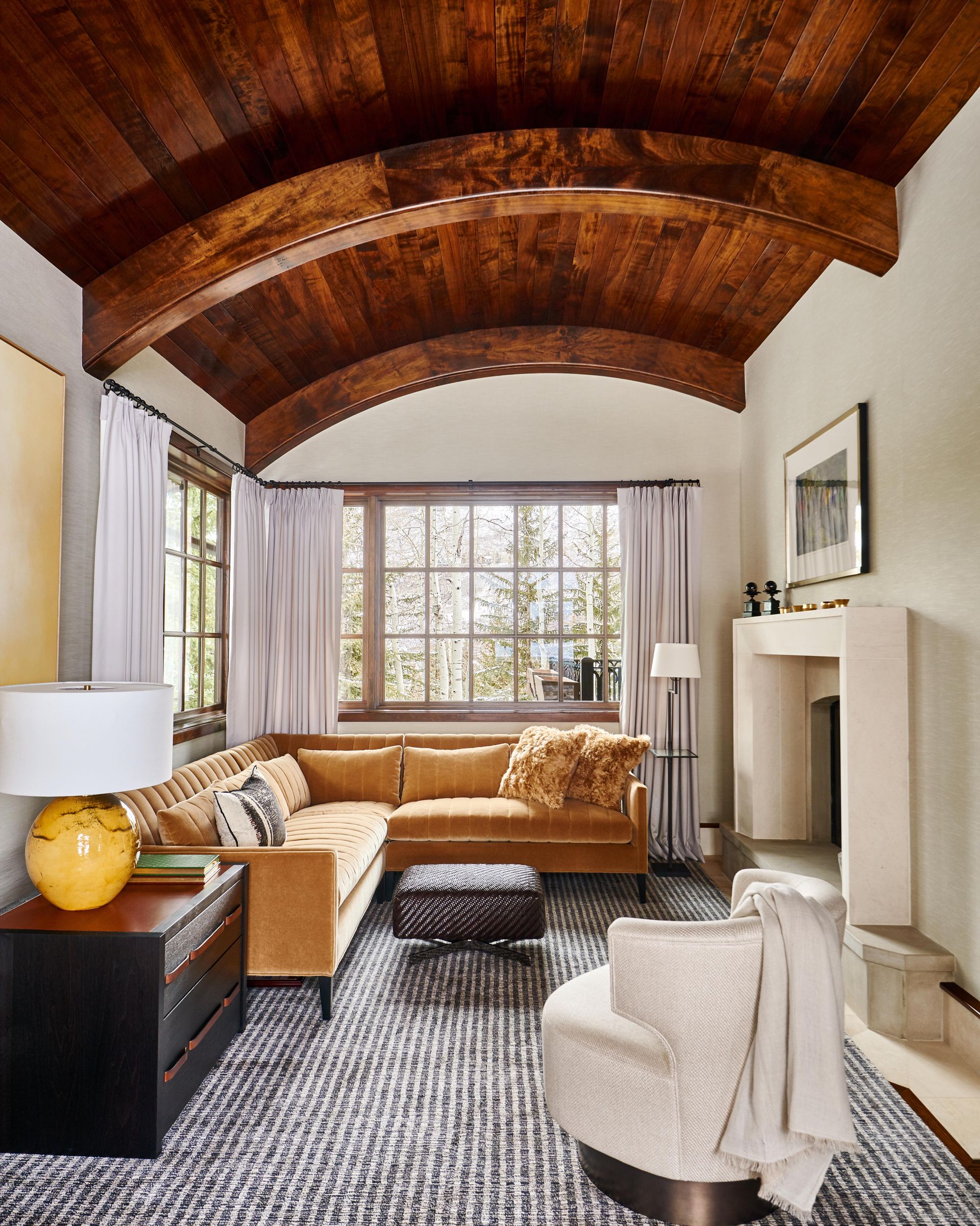 When designing a quiet luxury living room, it is important to remember that materials matter. It is a wise idea to add warmth to the room with structural materials. You can do this with a wooden floor, wood-paneled walls, or wooden ceilings, as shown above.
Timber not only provides the structural skeleton of many houses but brings a special quality that ensures a space remains timeless and sophisticated. 
For us, natural wood never fails to bring character and luxury to a room, but its greatest advantage is its versatility. It can be used on walls, floors, storage, and as furniture. For a modern look choose textured finishes that show rough marks of the bandsaw for a distinctly rugged effect. Paler treatments, such as bleached oak, limewashed wood, and timbers with gray tones are also in demand. Those with more traditional tastes should take a look at natural unstained oak or rich mahogany.
This gorgeous, quiet luxury living room is by Champalimaud Design in New York.
6. Layer tonal colors, texture and shapes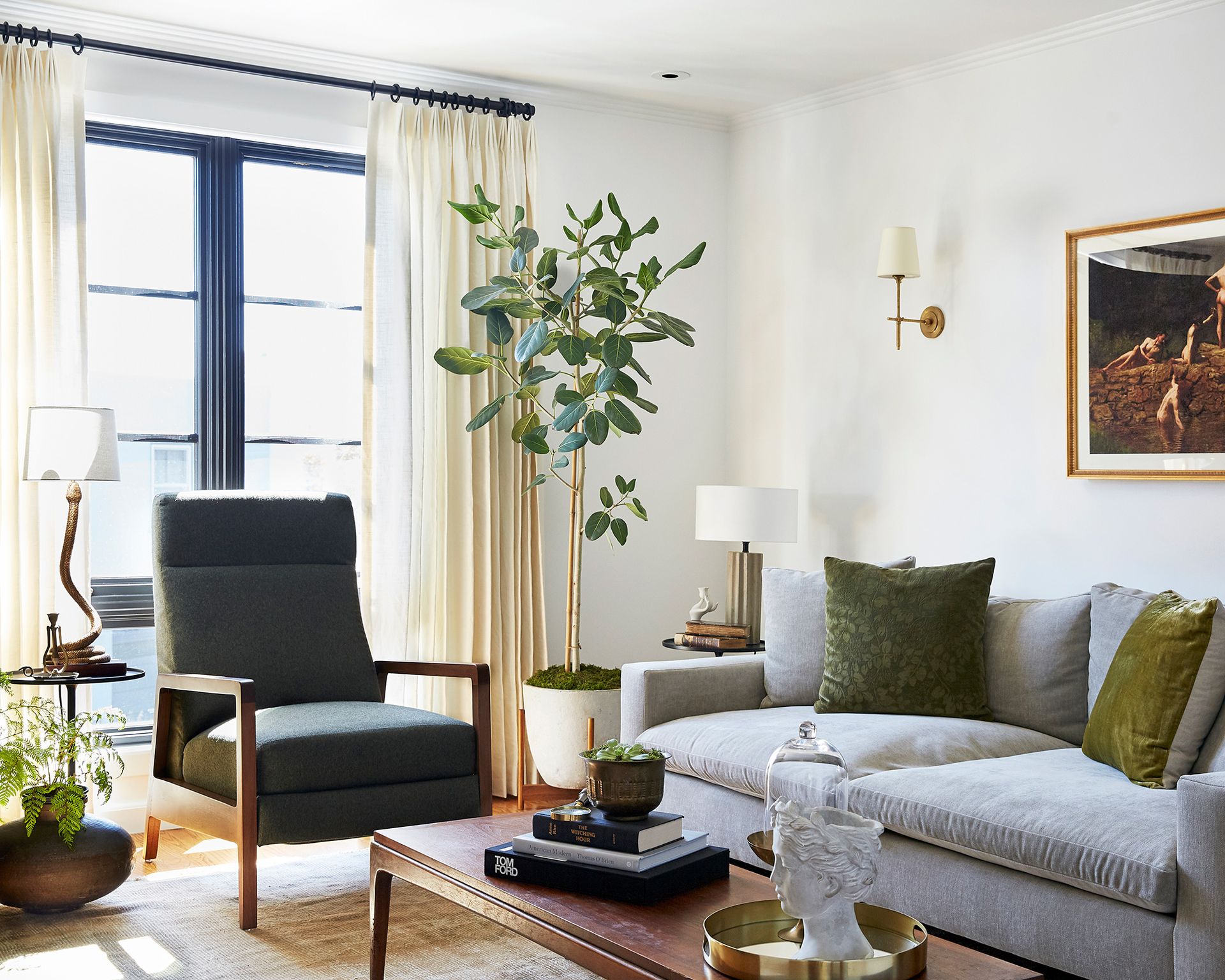 Luxe layering in interior design is essential for creating rich, expensive-looking spaces at home. The art of layering is to learn how to use each of these individually and make them work together cohesively – building a room from the ground up. 
Color is the starting point of any scheme and the first layer to consider. We often mention that white creates a blank canvas, but any single color in a room also works in the same way. However, if you want to achieve quiet luxury, a palette of whites, beige, and taupes are the best options.
'I love the calmness and sense of luxury and sophistication that you create when you have a neutral palette in a room, especially if you wish to replicate the popular quiet luxury aesthetic', says interior designer Tamsin Johnson.' But this choice definitely doesn't have to mean boring: you can create an interesting and exciting space by layering different tones, such as off-whites and beige, then introducing a range of caramels and even accents of black.'
If your main surfaces – floors and walls – are too plain for you, adding interest is your next step. To avoid the risk of turning your room into a riot of chaotic colors, instead, opt for tonal colors found in nature. You can do this with indoor plants, timber, and sisal flooring. 
Here, interior designer, Leo Cesareo of Leo Cesareo Design invites a sublime palette of neutrals alongside furniture and furnishings that are both calm and cohesive. 
'For us, it was important that we created a scheme that the homeowners would cherish forever,' he says. 'Our vision for the furnish ings and decoration was to create an elegant, quiet space that was dexterous enough for lounging and entertaining – one that would never date.'
7. Invest in bespoke joinery for a subtle, expensive feel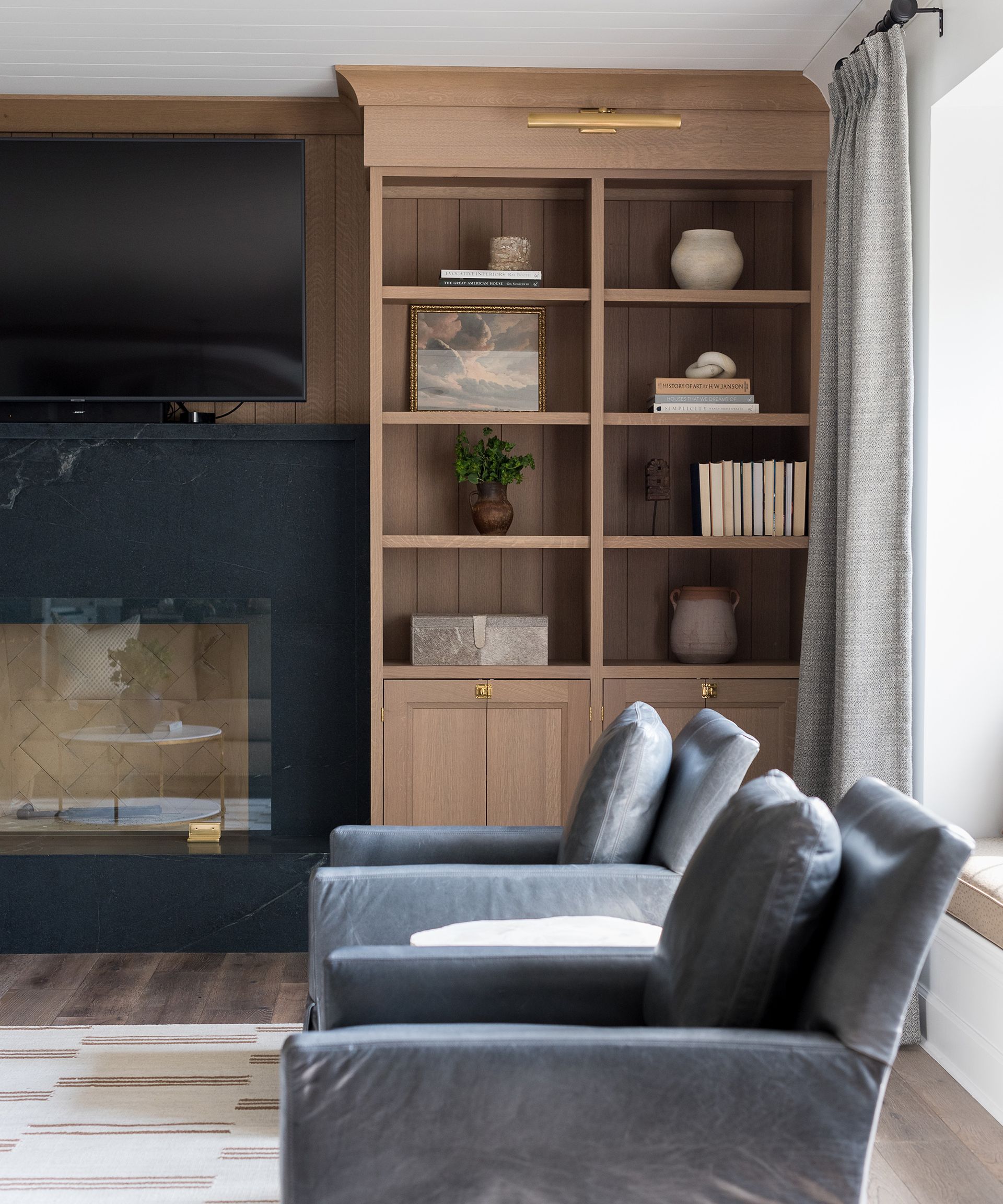 If you want to make a living room look expensive, but also subtly luxurious, then bespoke joinery is an excellent investment.
'Joinery is the minutiae of a project, but it really makes a room or house sing,' says Tom Bartlett from Waldo Works. 'It can pull a room together or help to connect different spaces.'
When you think about it, all the spaces that we find intriguing, such as home libraries and reading rooms, involve intense joinery moments. It's almost like making rooms out of joinery rather than putting joinery into rooms.
'So much of our lives is flatpack, and there already is enough MDF in the world so being able to indulge in something beautifully made is a luxury. When we get the opportunity to custom-make things, we really celebrate that, and spend time thinking about every aspect of it. Custom joinery is like having a suit made – there aren't many things in life that you get made for your exact requirements.'
For a quiet luxury finish, focus on the details, says Mark Hollis of Hollis Rouse London, a construction and refurbishment firm. 'With lit joinery, think about having the correct light intensities and color temperatures; spend more on the 'jewels' of joinery such as handles and consider painted finishes carefully. 'A factory finish requires careful transportation so as not to damage it,' says Mark. 'Conversely, hand-painting on site can be time-consuming and needs to be well executed if you want your living room to embody the luxury and opulence of a luxurious, well-curated space.'
Best places to buy furniture and furnishings