It's potentially the trickiest question you ask an interior designer – what's the best project you've worked on? But selfishly it's how you get the best of the best design inspiration. So we naturally had to ask some of our favorites for their most memorable bathroom remodels. And their answers of course did not disappoint. 
Bathrooms are some of the most glorious spaces to redesign, the colors, the textures, the materials, can be so exciting and luxurious, it's so amazing what's available right now and what designers are doing with these once pretty blah spaces. Despite being one of the, if not the, most practical rooms in the home, they can also be the most beautiful, as all these designer bathroom remodels prove. 
1. Thomas Griem, founder of TG Studio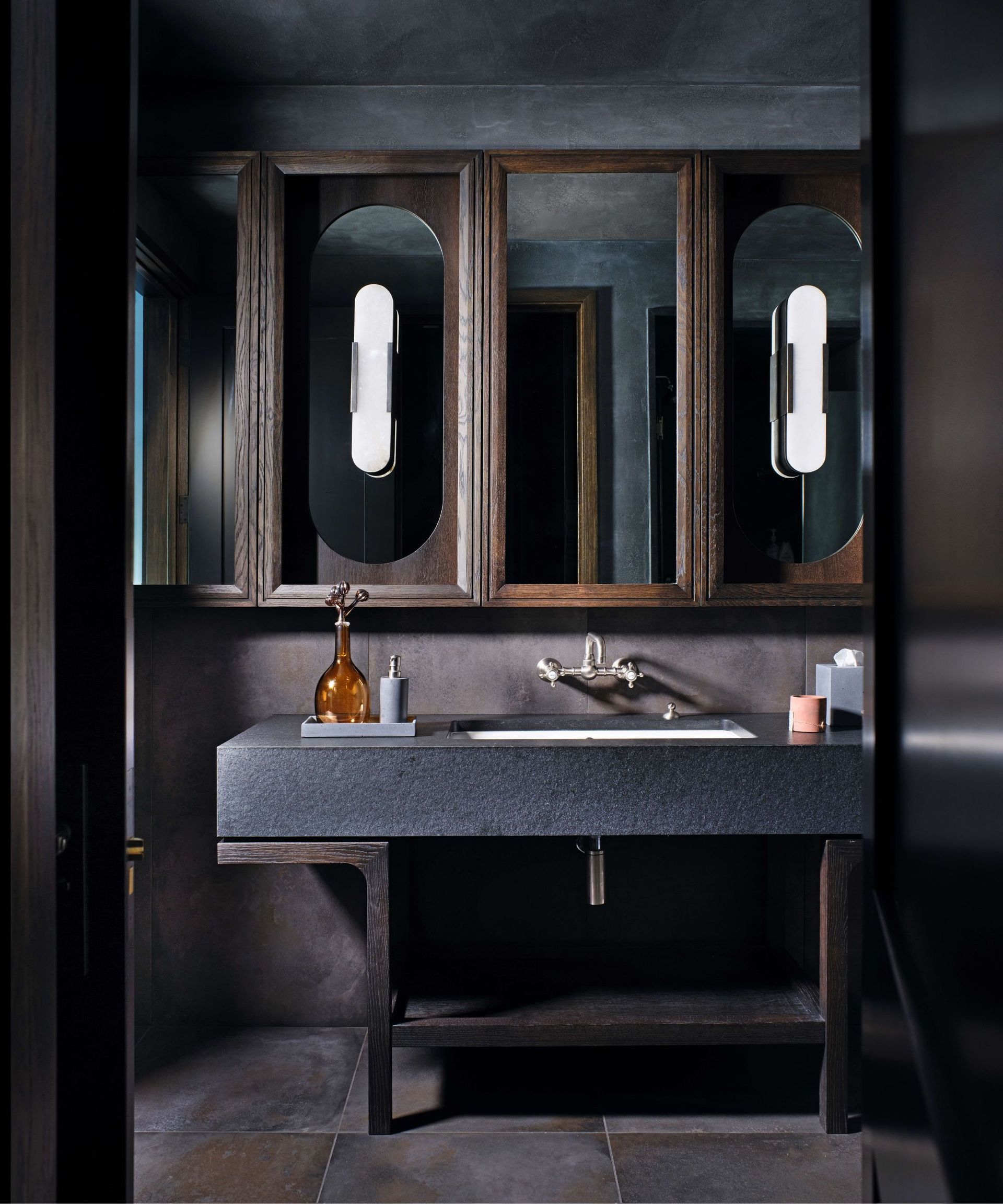 'This house is in the mountains where bright snow dominates in winter, so we created a dark, layered mood to contrast,' says architect Thomas Griem, founder, TG Studio, who worked with architectural assistant Marco Siviglia on the project. 'The secret to pulling off a monochromatic look is to add shapes and textures: here, the rectangular vanity unit combines with curves in the mirrors. The vanity's smooth stained oak frame contrasts with the textured granite top and plaster walls.'
2. Charlotte and Angus Buchanan, founders of Buchanan Studio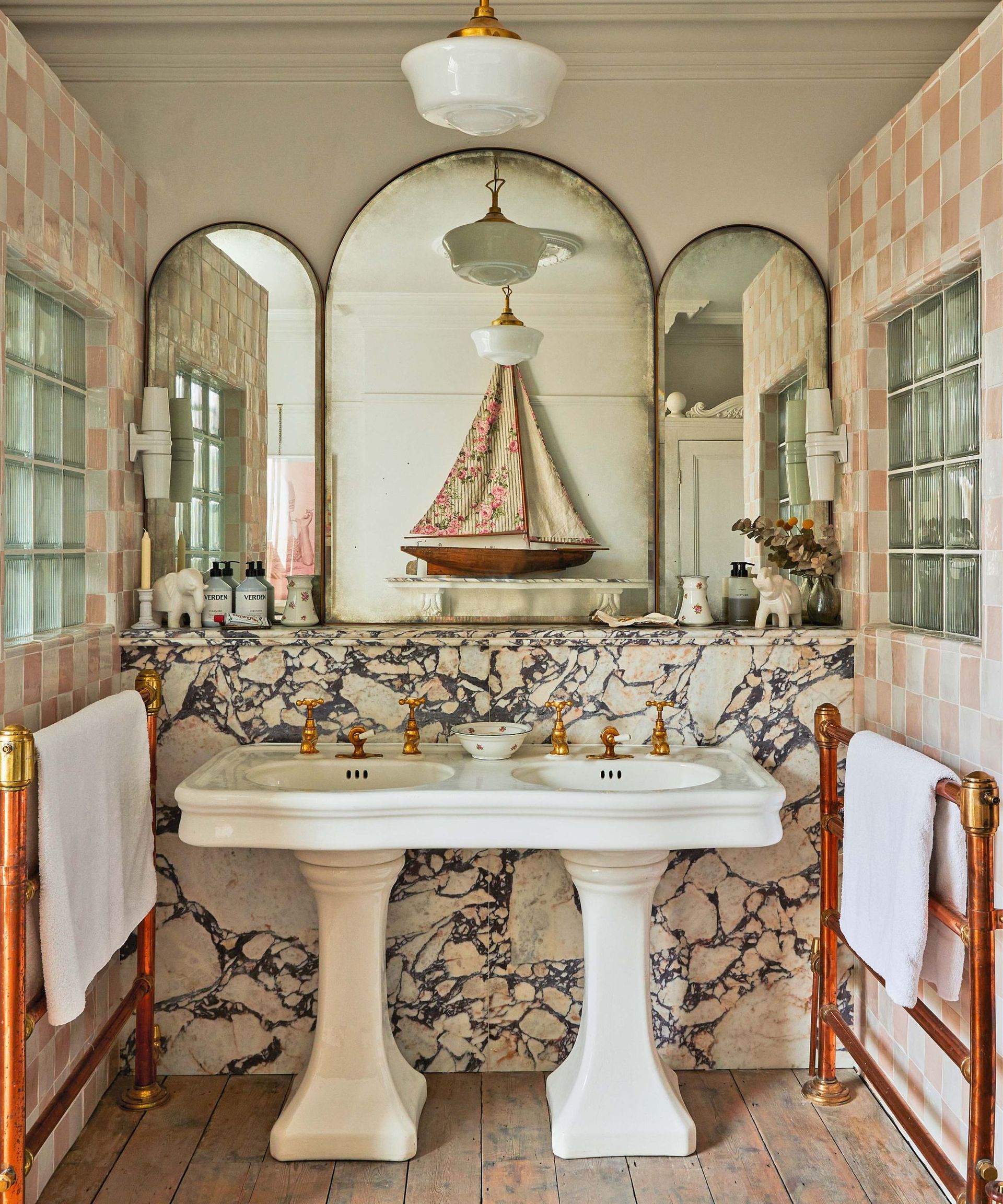 'This is our primary bathroom at home in London featuring two internal "cabins": one houses a walk-in shower, the other a loo. We wanted to reinvent the Edwardian elegance of the room, restoring the floorboards and elevating the fireplace with marble.' explains Charlotte and Angus Buchanan, founders of Buchanan Studio. 
'We also wanted to bring in other reclaimed elements to enhance the architecture and added salvaged doors to the shower and put a roll-top bath in the middle of the room. The idea was to recreate the feeling of an English country-house hotel – a moment of calm away from the business of London, work, family life and our crazy dog.'
3. Nicole Salvesen and Mary Graham, founders of Salvesen Graham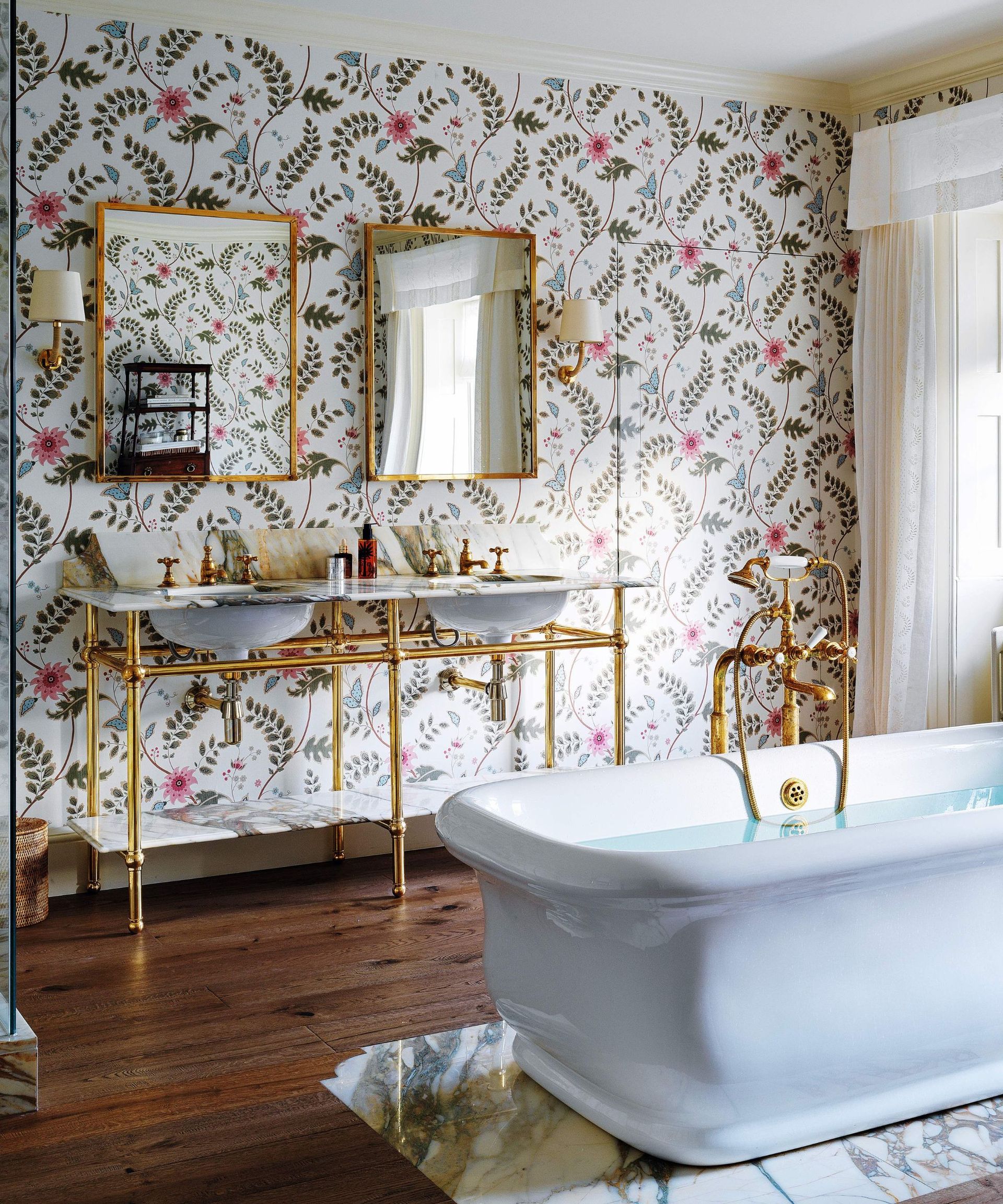 'In this project, a bedroom was reinvented into a large and generous principal bathroom. We added our Floral Trail Delicate wallpaper, which is part of the Salvesen Graham Collection. It makes the bathroom seem busier but we then offset the pattern and colour with a masculine bold-veined marble in the shower enclosure, around the vanity, and under the bath,' explains Nicole Salvesen and Mary Graham, founders of Salvesen Graham. 'Out of picture are some bespoke bathroom curtains by Colefax and Fowler. In essence, we like to design bathrooms to be another room to spend time in.'
4. Tom Bartlett, founder of Waldo Works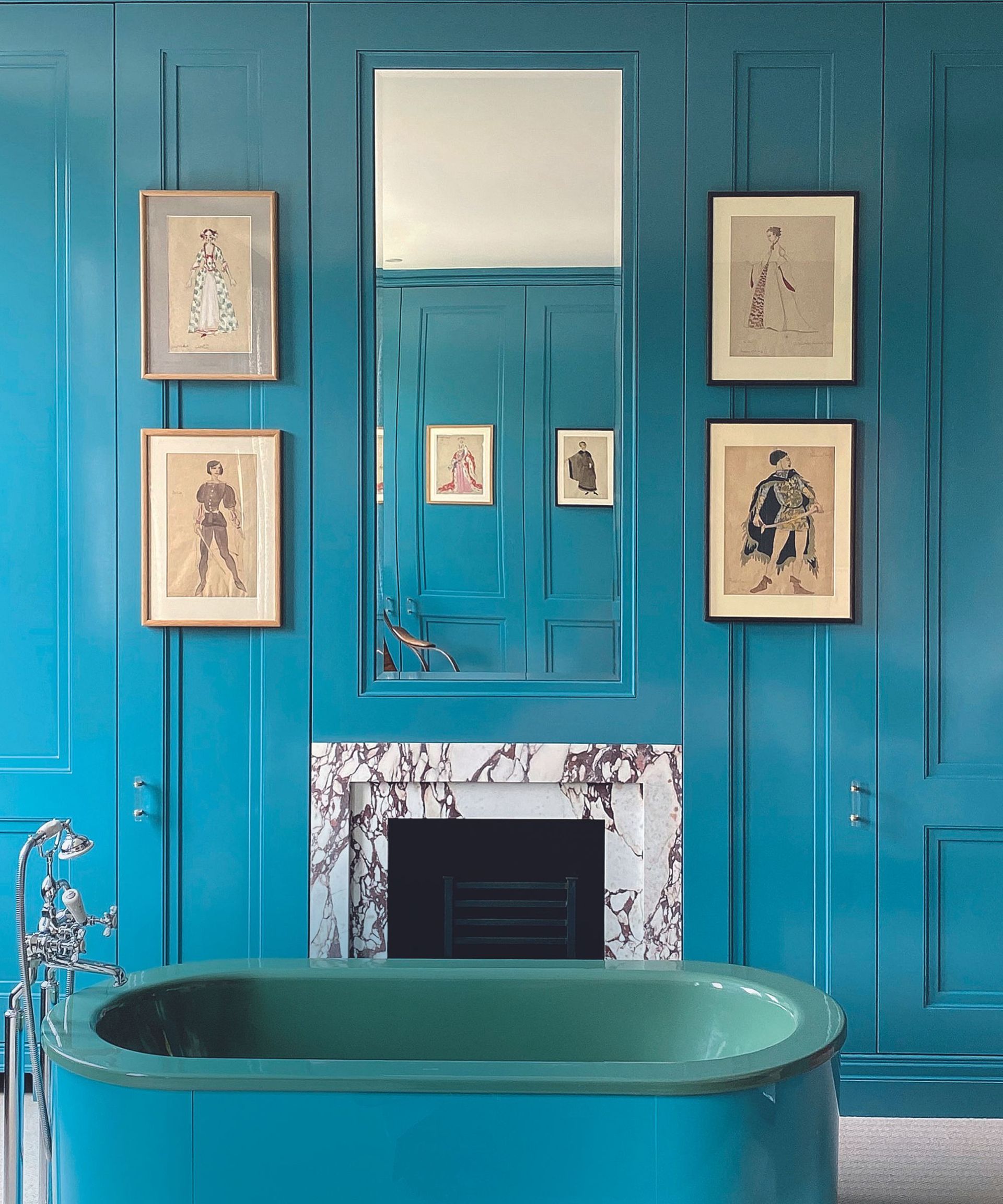 'This room was for a friend, Melinda Stevens who is director of travel platform Loupe. The walls of the room are paneled so they can hide wardrobes. The color is derived from the bath surround: it's an acrylic product called Parapan which comes in limited colors. We loved this one and used it throughout. The fireplace, recessed into the paneling, is in a matte Breccia Rosado. It's now quite ubiquitous, so we don't use it much any more, but looking at this again it reminds me how nice it is.' says Tom Bartlett founder of Waldo Works.
5. Steven Gambrel founder of SR Gambrel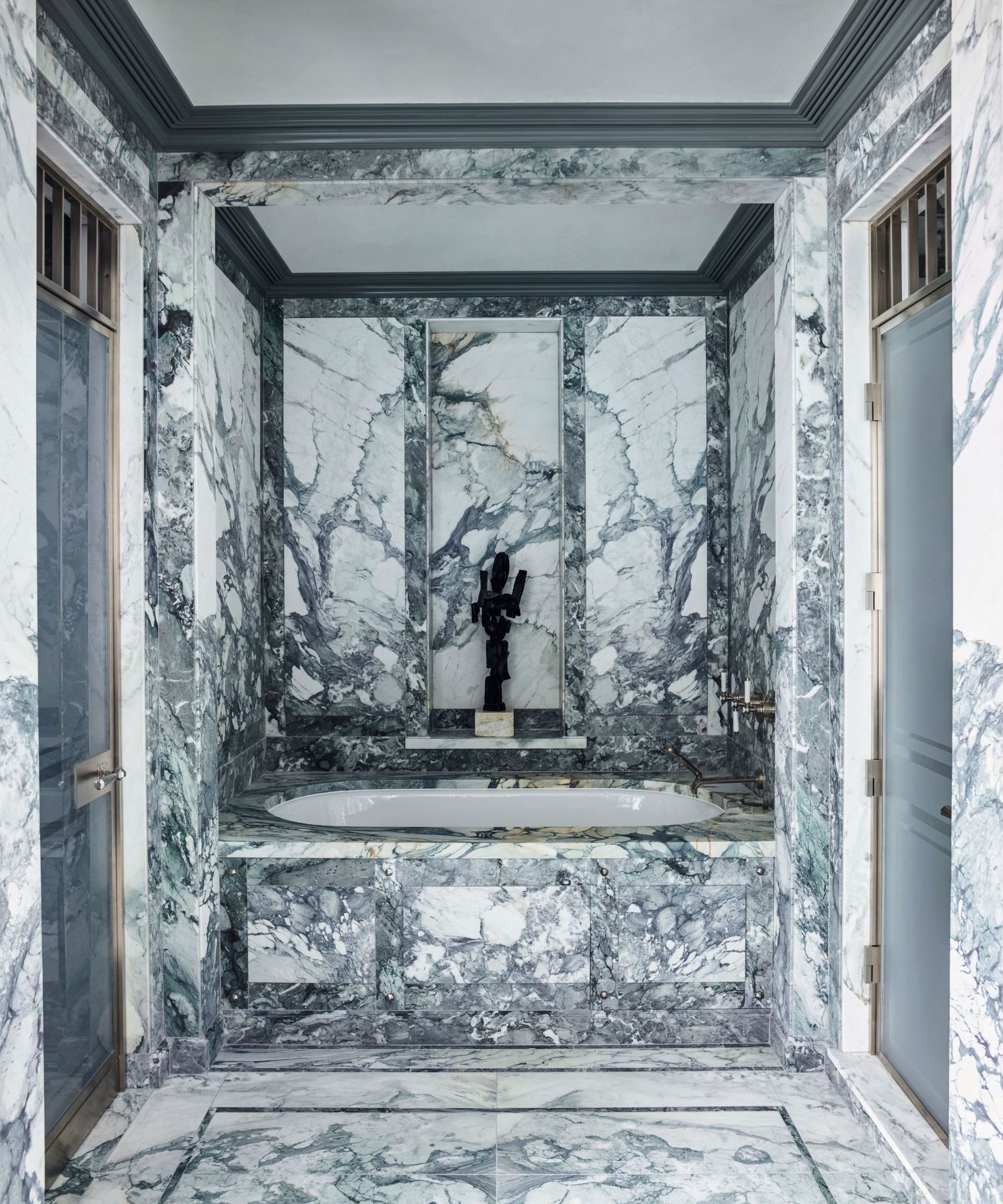 Renowned for his sophisticated designs, Steven Gambrel, founder and president, SR Gambrel, hand-picked the blocks of Breccia Capraia marble for this principal bathroom. 
'Phil Liederbach, of Liederbach & Graham Architects, and I chalked out what we needed on the walls inside the quarry,' he recalls. 'The dramatic veining of the stone creates high impact, while its myriad soft grey hues introduce a quiet depth. Phil's beautifully proportioned architectural detailing frames nature perfectly.' he explains.
6. Lucy Barlow, co-founder of Barlow & Barlow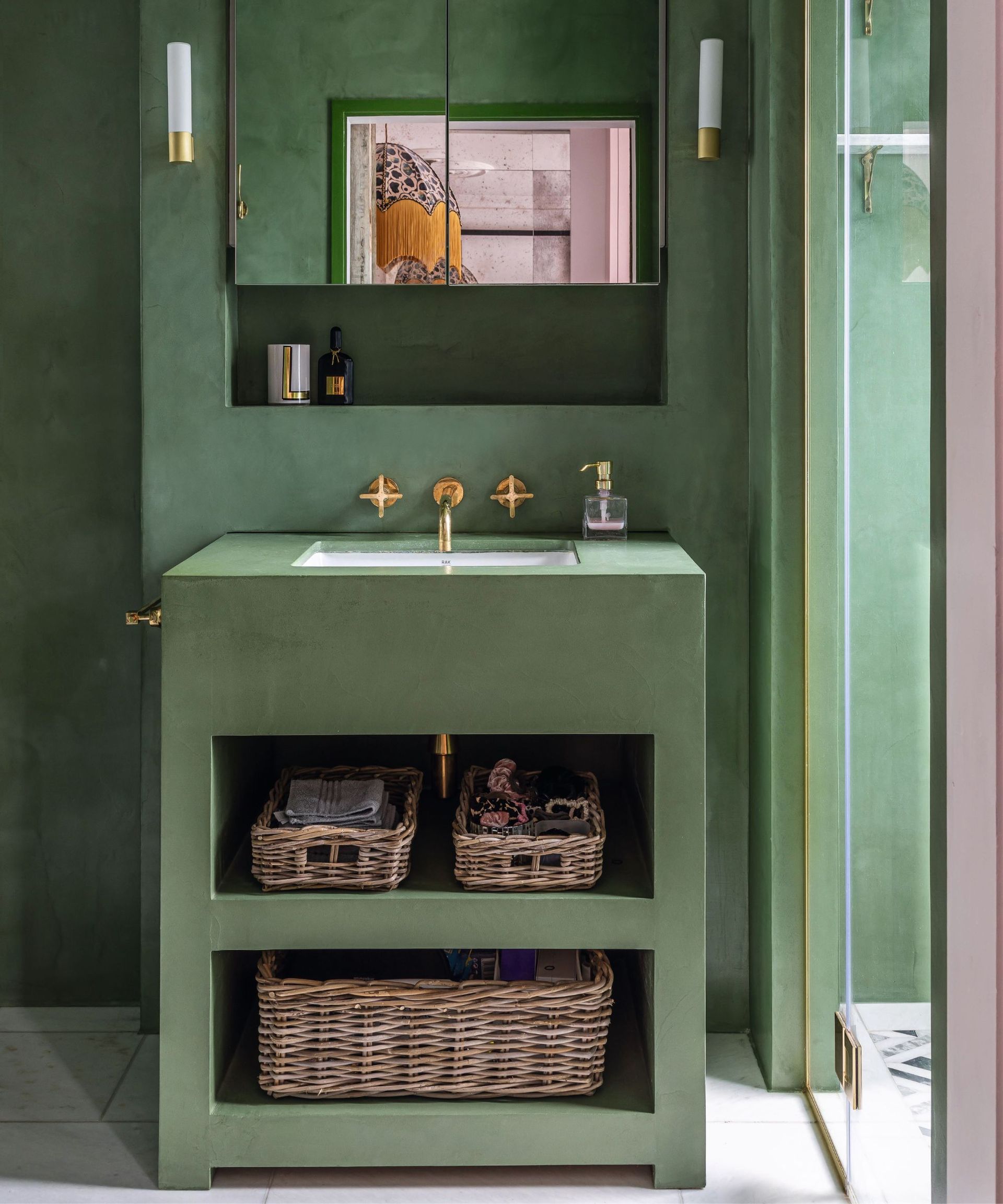 'As this is a small bathroom, we decided to create an architectural design to make it feel uncluttered, so we formed the vanity unit and covered the whole space in a microcement,' says Lucy Barlow, creative director, Barlow & Barlow. Durable and impermeable, microcement is made from fine cement, pigments, and other additives to create a seamless waterproof finish. The shade of green was specially mixed for this project: 'It is both soothing and uplifting,' Lucy adds.
---
See bathrooms can be every bit as beautiful and exciting as softer more lived-in spaces. These are such great rooms to have fun with and experiment in, a bold bathroom is far easier to live with than a bold living room or bedroom. So let these spaces inspire you to bring some pattern and color and texture into your own bathroom.