A pastel scheme ushers in a look that has been popular over the centuries, the Georgians loved to use soft pastel tones, and the Rococo period was an unrivaled light-hearted delve into charming pastels. In America, the 1950s and1960s embraced a soaring rise in the use of pastels and soft tones in interiors. Strawberry ice cream pink, soft muted greens, lavender, and baby blues were bought in abundance, and displayed throughout the home in post-war middle America. Pastel room ideas were once the choice for optimistic interiors, a style decision chosen by millions of joyful, nuclear families in 1950s America.
However, the historical undertones of pastel tones often invite strong, love it or loathe it responses, despite these soft and beautiful tones found in profusion in the natural world. So, what is the resistance to using pastels? Is it the association with children's toys and clothes and the, not so, distant saccharine past?
We discover how professionals decorate with pastels, uncovering that pastel living room ideas are definitely not childish and when paired with darker tones, rich natural materials, wood, or brass, this style trend is as mature, chic, and elegant as you can imagine.
Pastel living room ideas to calm your space 
Dive into the world of soft and delicate pastel living room ideas with us. Track down the best place to start building your mood board, where to find inspiration, and discover if specific pastel colors work better together or if they all just connect. What colors from this unique palette should we consider when designing a living room and which materials could be used alongside?
1. Let nature be your inspiration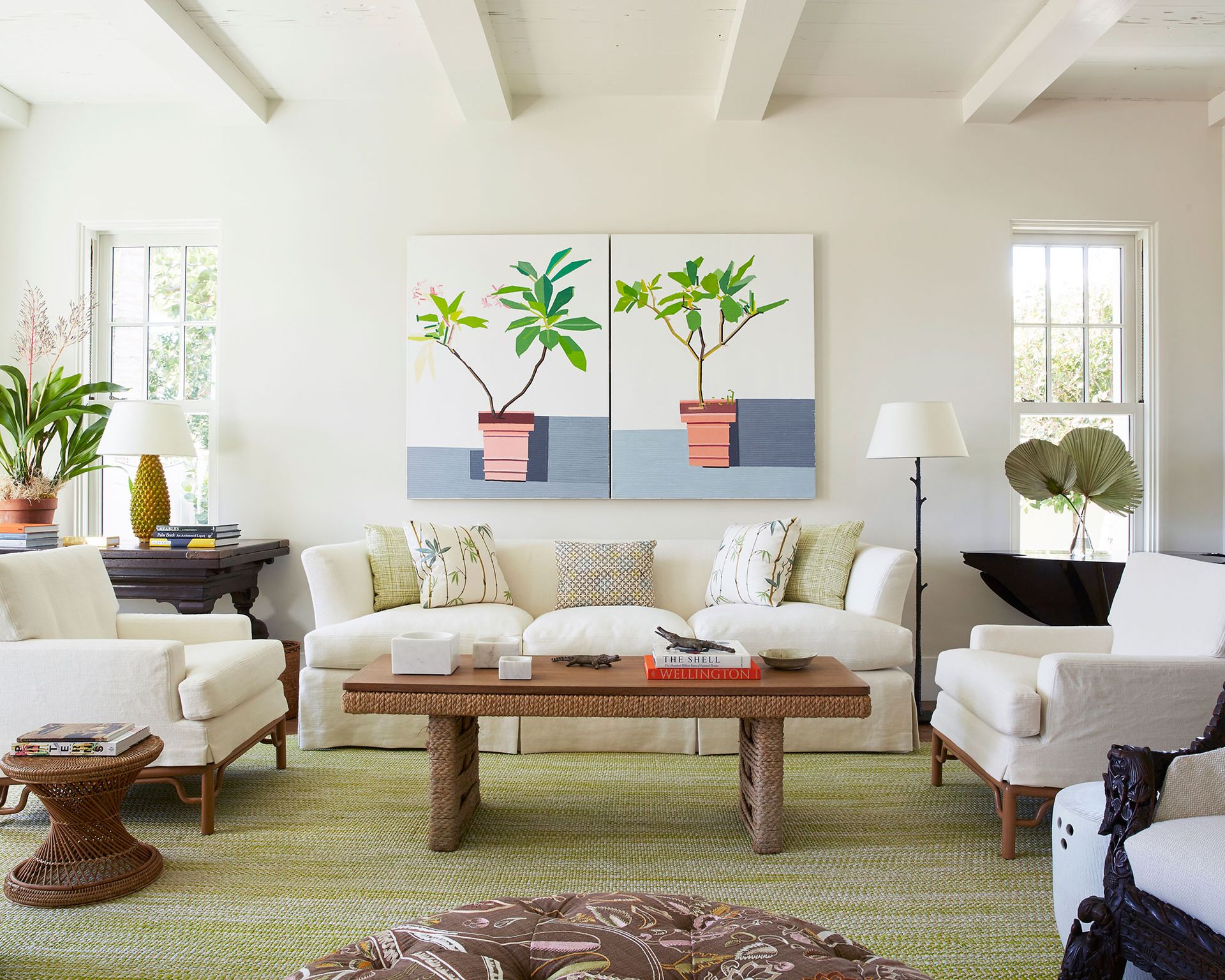 When choosing from the pastel palette where to begin? A simple rule of thumb, to inspire your designs, is the scene directly beyond your living room: nature. This kind of blue-sky thinking is a brilliant starting point when considering interior design, choosing colors that are reflected outside will create synergy inside. The natural world provides a bounty of gorgeous pastel tones from a delicately soft, aqua blue sky, pale leafy, green tones, subtle petals from a blushing rose bush, and many more in between. 
'Blend the indoors with the outdoors, come rain or shine with a palette inspired by the countryside. Off-whites, muted pastels, and shades of green work together to create a fail-safe palette, working beautifully against reclaimed wood, rustic accessories, and plenty of chunky throws for added comfort. Whatever your preference, be it neutrals or darker hues, choose shades with warm undertones for a cozy and effortless country scheme,' says Emma Bestley, creative director and co-founder of YesColors.
This nature-inspired style can be seen in a living room designed by Tom Scheerer, the green pastel tones are softened with natural wood, woven rope, and cane furniture. The paintings and houseplants add to an overall sense of the natural calm created in this country-chic design.
2. Go deeper if a hue isn't your thing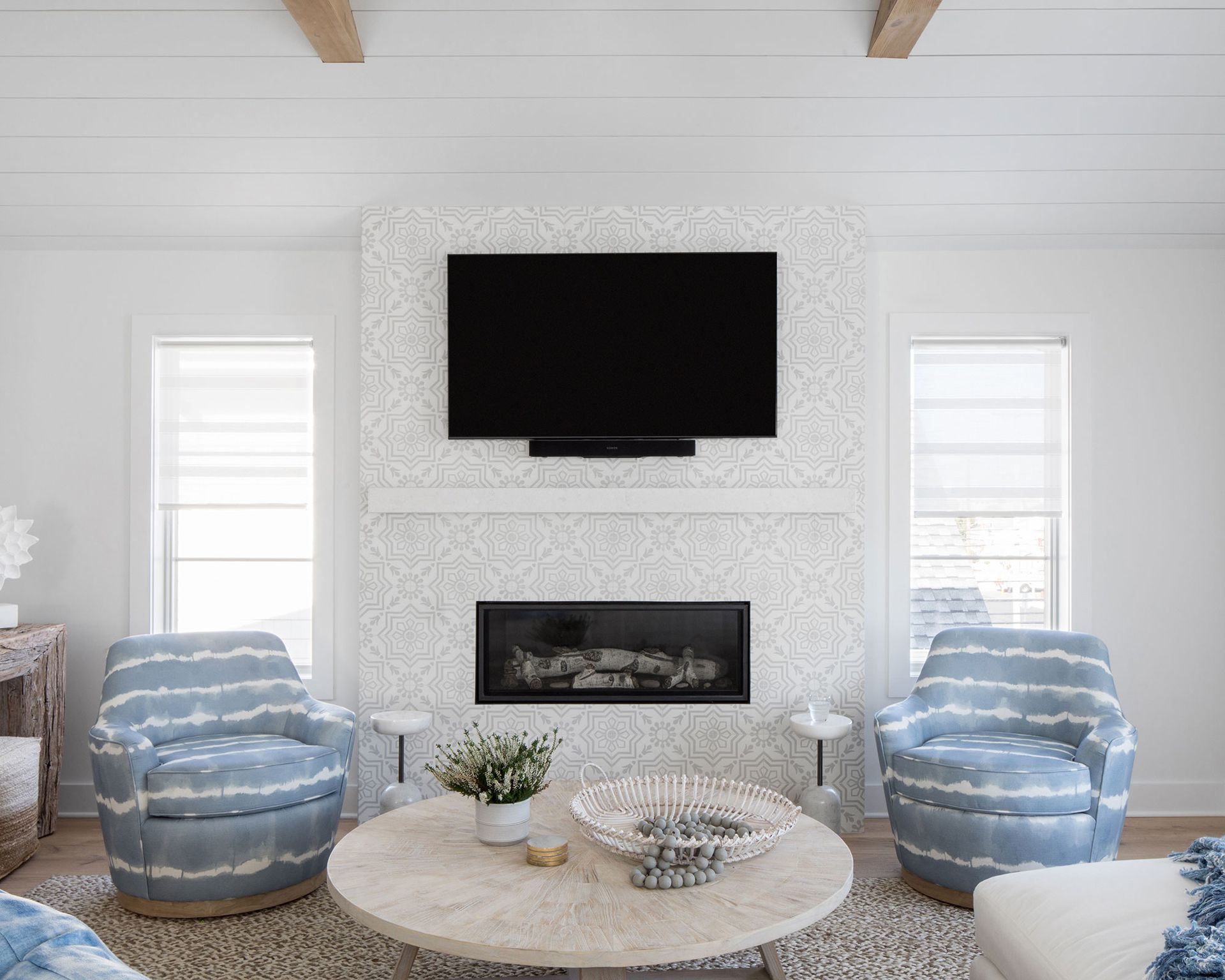 Pastels don't have to be loud, garish, or particularly sugary, instead, why not try a contemporary coastal living scheme?
'It's possible to create a sophisticated pastel sitting room by combining muted tones. Pastels are very versatile, mix with pale to mid-tones to create a balanced interior that feels more grown up rather than sickly sweet,' says interior designer Kate Guinness.
Karen Wolf, interior designer at K&Co Living, agrees: 'Pastel living spaces exude softness and modernity. Choosing a color to anchor the space is the best place to start. These delicate colors add light and texture to a living space without feeling overpowering. You can use pastels on pillows, furnishings, or walls.'
3. Combine light and dark pastel shades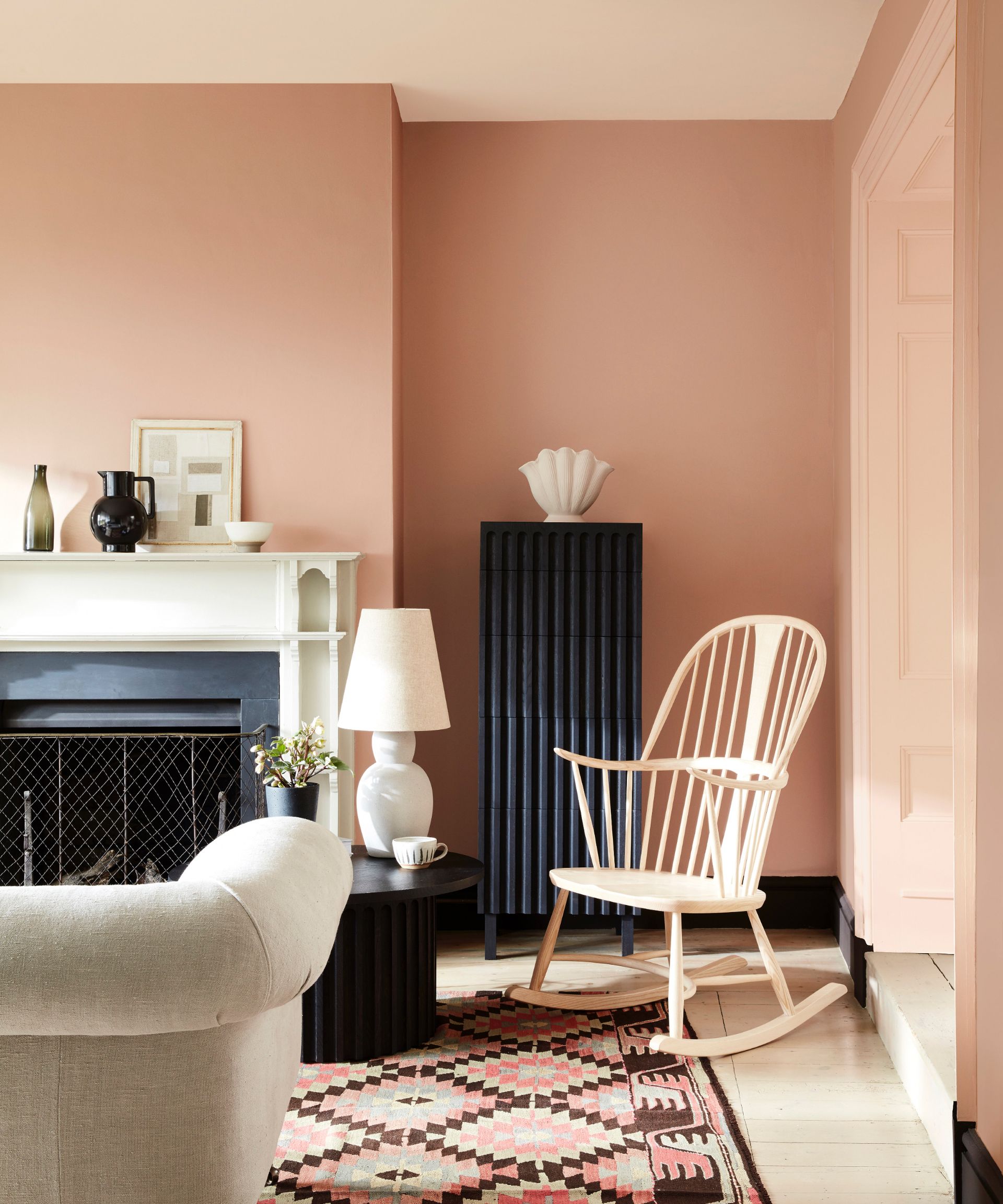 For centuries pink was extremely fashionable, intrinsically connected with nature, flowers, and love, it is a popular and beautiful starting point for a pastel-hued living room. Mamie Eisenhower introduced the American public to this pretty tone, her legendary pink palette seen through her clothing, chinaware, and her interiors kickstarted a passionate pink love affair in the 1950s and '60s America. 
To avoid that saccharine pink tone becoming too sweet, combine pastels with a bolder hue. Deep plums, dark greys, and rich blues all work well. The soft pink in this sitting room is stabilized with the injection of dark tones, seen on the radiator, and then anchored and reflected further in the skirting and the rug all combining to provide a seamless and smart look.
'Pretty pastel pinks, mint greens, sky blues, pale buttery yellows, and delicate lilacs all work together to create a charming and playful atmosphere in a living room. For an elegant scheme add a darker hue for an impactful yet intimate atmosphere,' suggests Ruth Mottershead, creative director at Little Greene.
4. Add subtle touches of pastel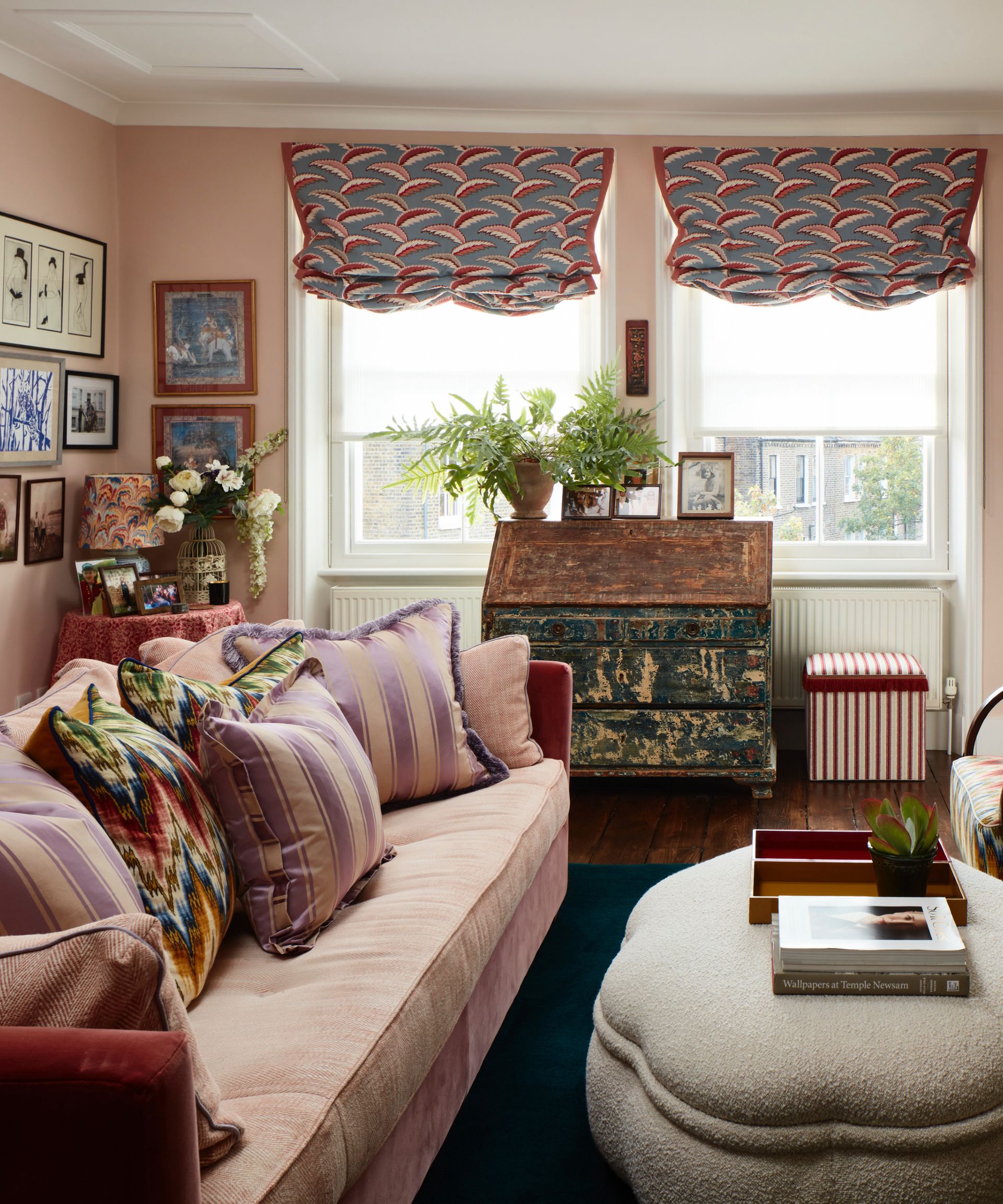 Scared of color? Lots of homeowners are, despite a huge shift towards the use of color in the last decade. Pastel tones, however, are a failsafe and low-key way to bring colors into your living room without overwhelming you.  
Designer Liv Wallers, co-founder of Yellow London, explains: 'Pastel colors are ideal for introducing subtle color to a living room, especially if working with brighter colors feels intimidating. Pastels are a perfect way to add hints of color to a more neutral space and are particularly effective when used to create an understated backdrop that allows stronger colors and patterns to come to the fore without overpowering the space.'  
5. Create warmth with two shades together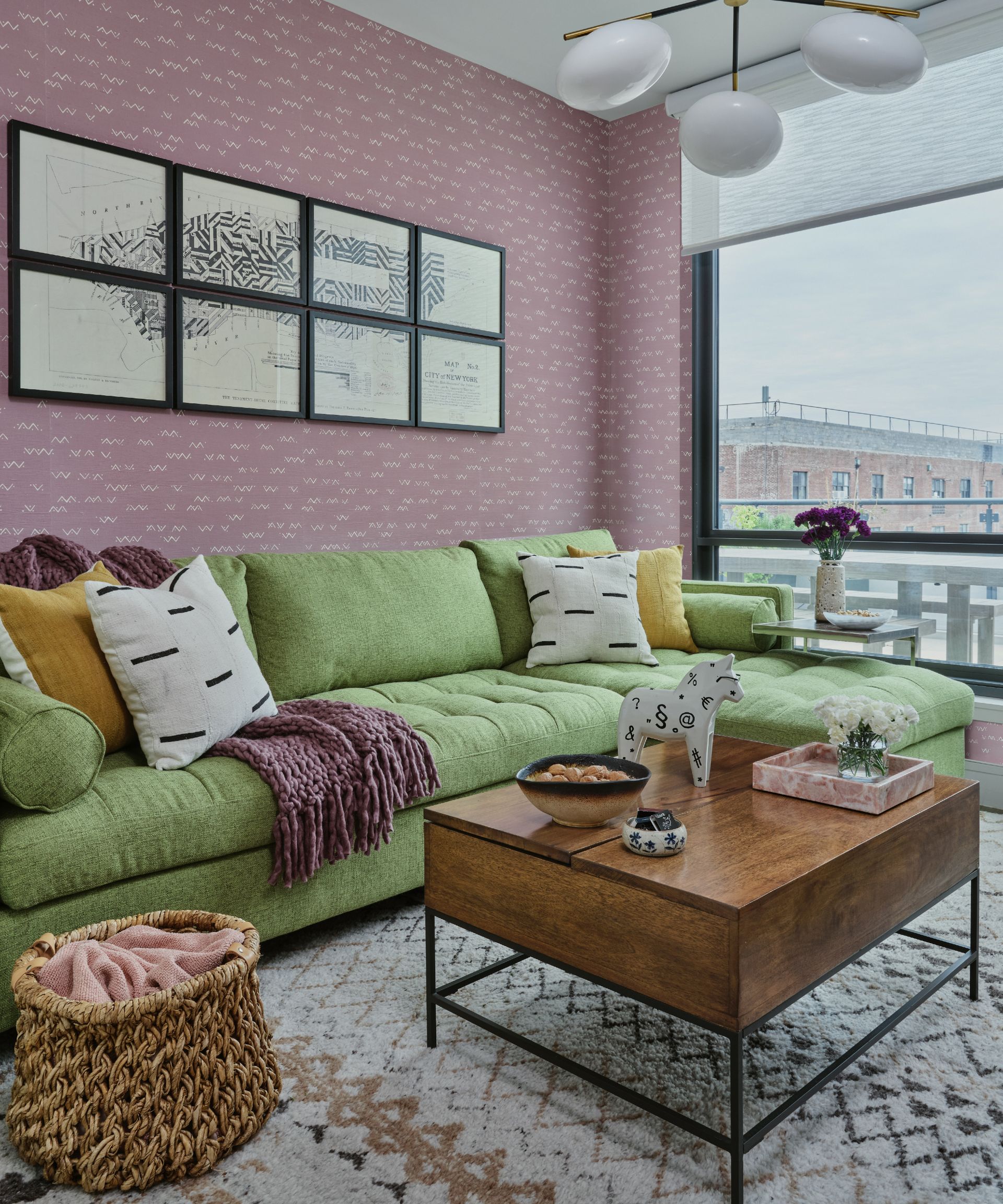 Principal designer, Rozit Arditi of Arditi Design, uses pastel tones to create warmth in her projects. Beginning with the walls Rozit chose a pastel pink grass-cloth wallpaper as the foundation for this project.
'We wanted to create a welcoming space for the family, I approached it by bringing in soft pastel tones and mixing it with brighter colors and textures in the rest of the furniture. I don't believe in any set rules when scheming a room, especially if we are designing with color in mind.'
7. Use a pastel as a neutral base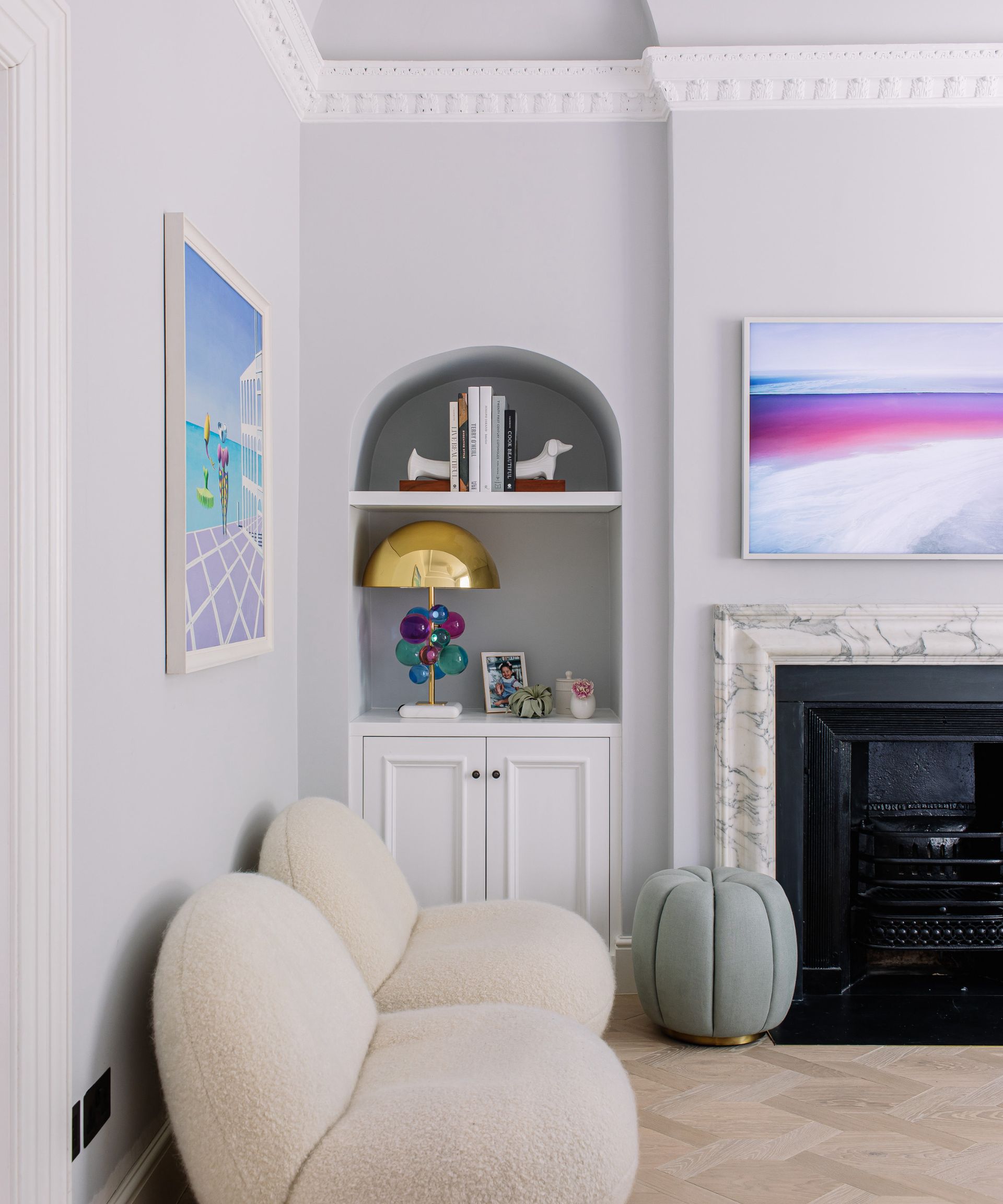 Creating a neutral backdrop as a starting point for your sitting room will provide a calming frame. Pastels are extremely versatile making them an important component in the neutral palette. Using a neutral tone with hues of pastel layered beneath creates a wealth of gentle color opportunities. Dominic Myland CEO of Mylands agrees: 'Pastel shades are incredibly versatile and easy to work with and are subtle enough to be used as a neutral within a larger scheme.'
This sophisticated sitting room has a purple-based pastel hue as the neutral tone on the walls and ceiling. Dominic adds: 'Soft lavender purples are calming and relaxing, and ideal for creating a restful living space, or try a light shade of green to create an earthier atmosphere and a space that feels on-trend yet timeless.'
They gently tease out the neutral color you chose through artwork and furnishings to create a joined-up look. Quietly layering the pastel neutral allows it to speak without overpowering the rest of the room.
8. Create depth by layering with other colors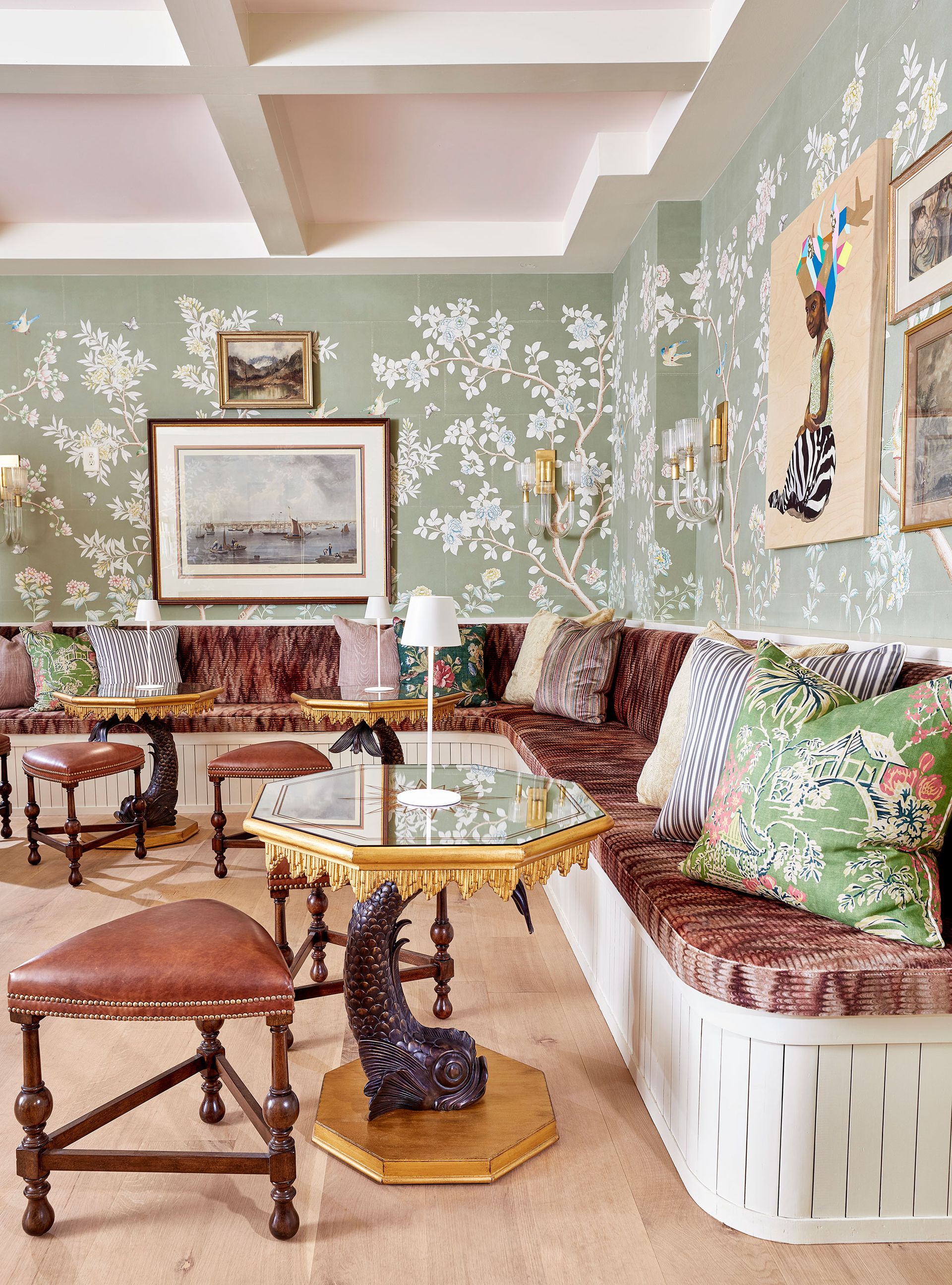 Edward Bulmer, founder of Edward Bulmer Natural Paint, explains: 'The more a color depends on white, the cooler it becomes. So therefore, if you get the tonality right, pastel shades will flatter the pieces in a room and provide a light and airy but furnished feel.'
Interior designer, Corey Damen Jenkins chooses layers of pastel tones to create a light and ethereal palette. Blush pinks, mint, and celadon greens alongside layers of black, white, and gold finishes. 'Reflective surfaces, artworks, antiques, and modern light fixtures surrounded by organic motifs, brought this haven to life.'
9. Nuanced tones for a relaxed feel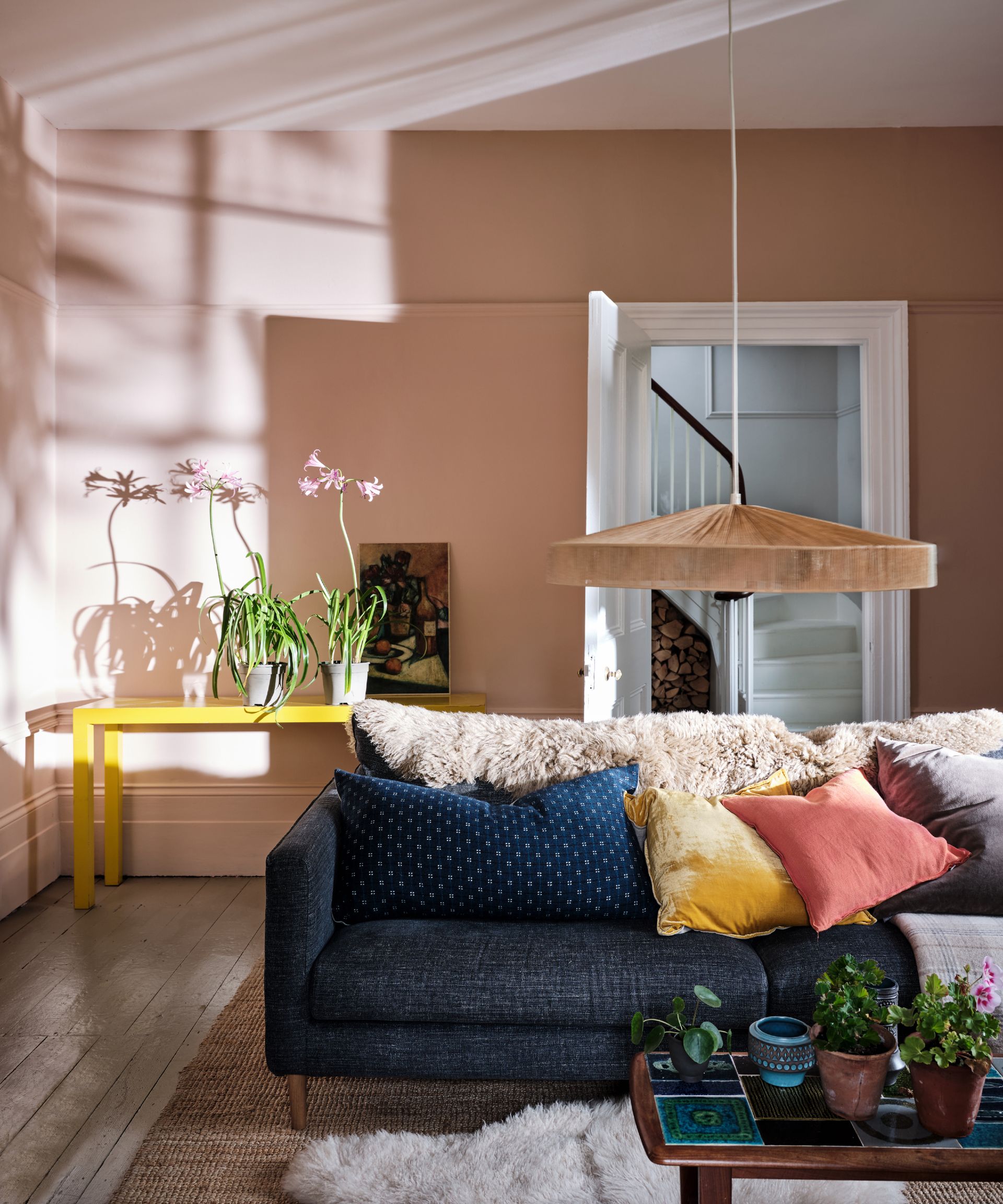 Create harmony using the walls and include the ceiling in your chosen pastel tones, the color palette selected will change the feeling of the design.
'Consider the light filtering into your sitting room,' says Patrick O'Donnell, brand ambassador at Farrow and Ball, adding: 'If you are looking for a touch of warmth in your interior then pinks and yellows is the start point but if you want something cleaner, then use blues and greens as the palette to play with, the latter responding especially well to east facing and coastal light.'
These softer tones are perfect for layering with richer and bolder colors, as seen here, a deep denim blue sofa provides a grounding foundation in the center of the room, while pops of bright yellow and deeper pinks ensure added dimensions.
Patrick continues: 'The classic decorating trope of white ceilings and trim are always successful with pastels but consider whites that share characteristics of your chosen wall color for a softer transition.' This ceiling has been painted white with elements of ground pink to create nuance.
10. Choose a bold accent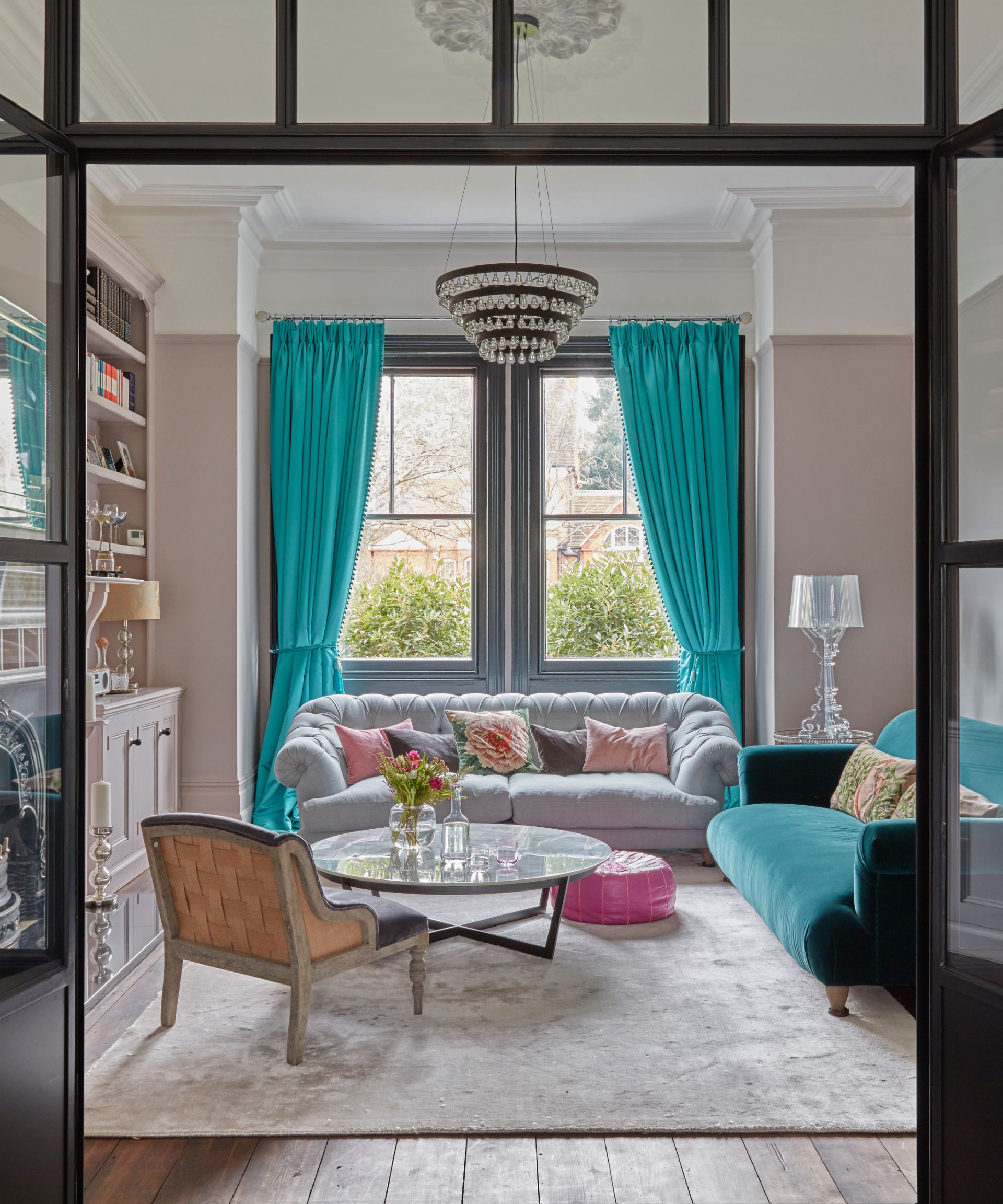 'Pastel works well in a home that wishes to introduce lots of depth and color. Working almost as a neutral, pastel shades like a soft peach, pink or blush work as a less harsh alternative to white or cream where a lighter complement to bold colors are needed,' says, Sophie Chapman, of The Vawdrey House, who won Interior of the Year at British Institute of Interior Design earlier this year.
Sophie adds: 'Pastels offer a soft and feminine vibe to a space. They can also be used to good effect as a counterbalance in a living room where you wish to inject darker more masculine colors or jewel tones. Pastels work well in heritage properties, or homes working to create a more traditional aesthetic and make a nice complement for darker furniture such as walnut and cherry timbers.'
11. Introduce pastels into fabrics and furniture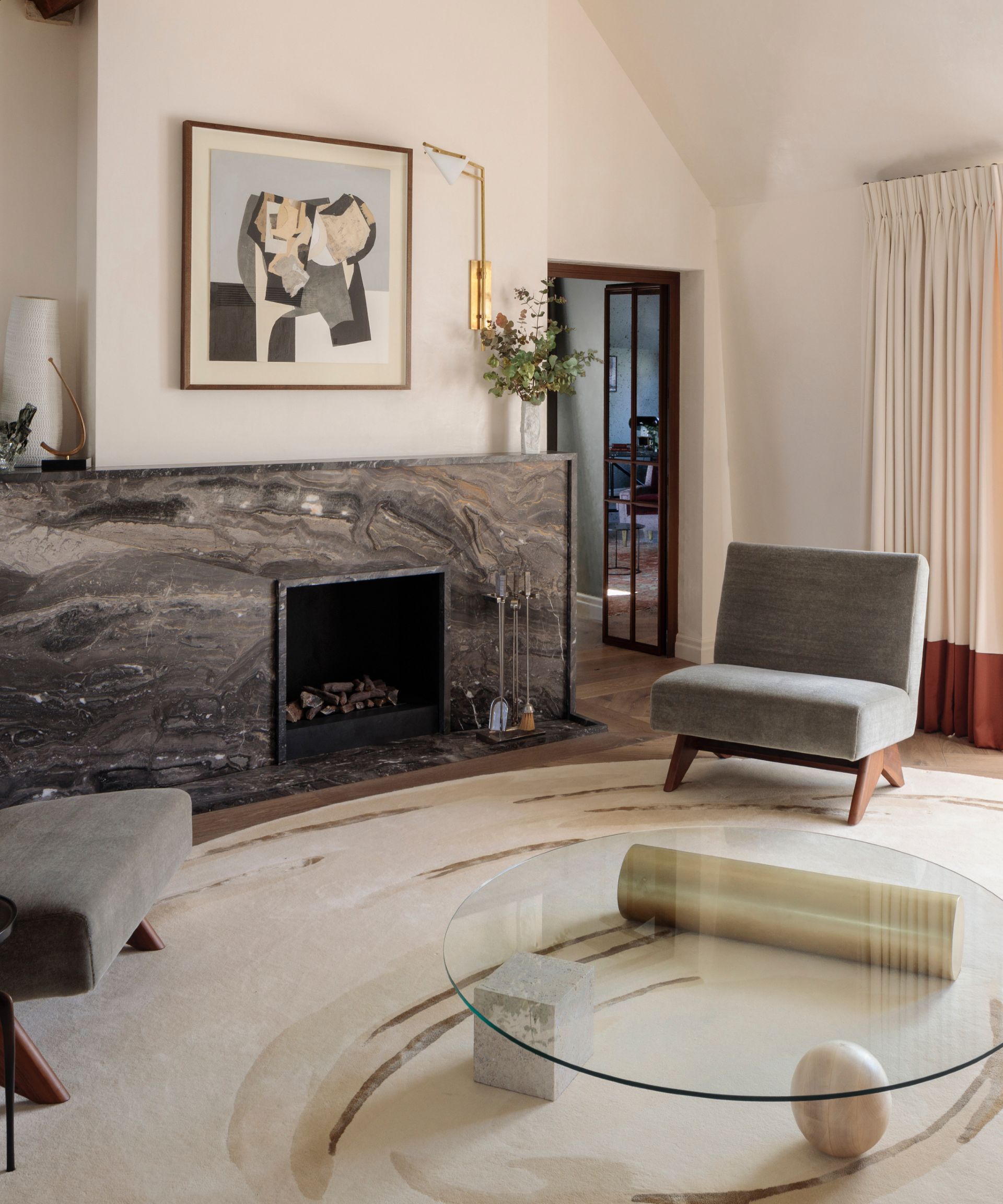 The art of subtlety can be incorporated when designing with the gentlest pastel palette. Soft and dusky pastel hues of peach, pink, apple green, or sky blue can be found in the most delicate of paint choices.
If you would prefer to use more inconspicuous pastels, you can introduce understated pastel tones using materials and fabrics, such as the curtains, rug, and furniture chosen in this living room, designed by interior designer, Katie Lion, at Kitesgrove, whose use of subdued notes of pink and peach generate a relaxed and elegant look.
Katie explains: 'Soft pinks and pastel shades that introduce color without overwhelming a space are successful in living rooms. Pastel hues add subtle hints of color and can be introduced in different ways, introduce pastel detail with drape, decorative objects, or cushions.'
12. Include neutral shades and accents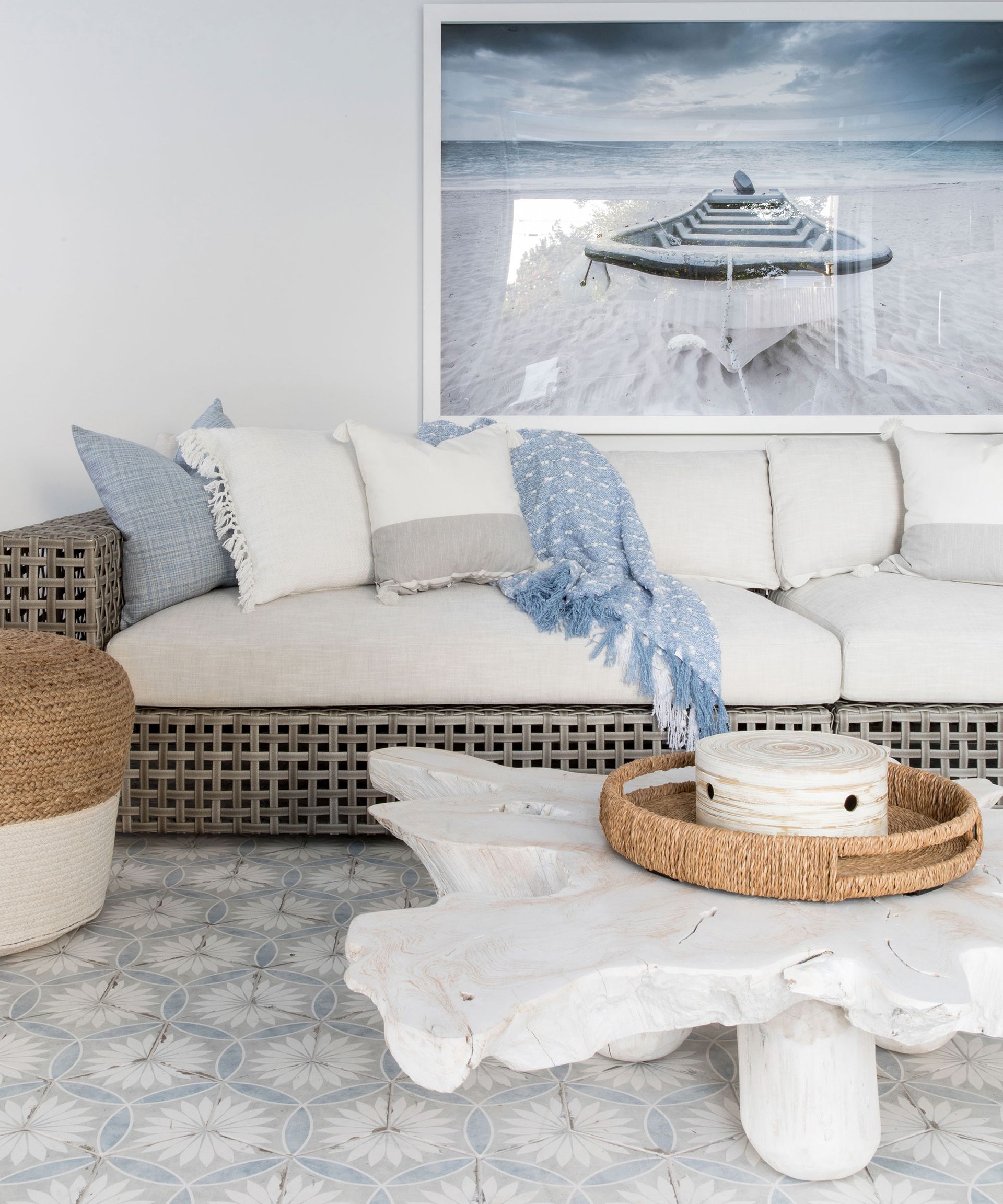 There are no rules to what can be pastel-colored and what cannot, says, interior designer Amanda Barnes at Amanda Barnes Interiors:
'Working with pastel colors in a living room is no different than working with a moody, or bold palette. When layering in soft colors you need to have contrast to bring the design to life. If there are soft tones upholstering the sofas, a dark wood coffee table is the perfect complement. 
If the walls are a pretty shade of pastel, a bold piece of art will take the design up a notch. The key is to make sure to layer in neutral shades and bold accents so everything will sing in the same space.'
FAQs
How to use pastel tones in your living room scheme
Interior designers agree pastels are versatile tones that work well together and pair beautifully with richer, bolder tones and natural materials including wooden floors, dark marble, and finishes found in fireplaces, mantels, and coffee tables.
For a subtle design, approach using pastels that have been imbued into white paint, or through the introduction of fabrics and upholstery. Pastels can be used as more nuanced neutrals chosen from the classic four tones, gentle pinks, pale greens and blues, and soft, whipped butter yellows. Pinks and yellows add warmth to a scheme while the greens and blues will provide a crisper, cleaner look.